Canadian Cardiac Arrest: Our version of poutine starts with a bed of golden fries topped with pulled pork, pork gravy and Wisconsin cheese curds $8
Fried Pickles: A generous helping of delectable fried goodness $6
Bandit Bayou Chili Cheese Fries: Shoestring fries topped with house-made jalapeño chili, Mexi-blend cheese, sour cream & scallions $8
Great Balls of Mac: Mac and cheese balls with beer cheese and pork belly are breaded then deep-fried $10
Vegetable Poutine: Grilled veggie blend topped with pulled pork, pork gravy and cheese curds $8
Bandit Chili Shooters: Flight of mac & cheese toast points dunked in house-made jalapeño chili  $9
Can Nachos: Pulled pork, tomatoes, onions, black beans, black olives and rainbow bell peppers are all topped with guacamole, jalapeños, queso sauce, salsa and sour cream $13
Mozzarella Sticks: Served with marinara sauce $6
Hodge Podge (Bandit Sampler): Mozzarella sticks, onion rings, chicken chunks and fried pickles $12
Bavarian Pretzel Sticks: Baked and served with beer cheese or mustard-q $7
Pulled Pork: Slow-cooked pulled pork served on a brioche bun stacked with house-made slaw and Carolina BBQ sauce $12
Southwest Chicken Wrap: Grilled or crispy chicken topped with lettuce, tomato, rainbow peppers, Mexi-blend cheese and southwest ranch $11
The Porker (BLT): Prime, thick-cut pork belly loaded with heirloom tomatoes, fresh arugula and Italian bacon aioli on a toasted sub bun $10
The Philly: Hand-cut ribeye, topped with grilled onions and peppers, beer cheese and Swiss, served with shoestring fries $15
The Fun Guy: Classic angus patty topped with portabella mushrooms, caramelized onion and Swiss cheese on a brioche bun $12

Yeah Boi: Louisiana-inspired hand-breaded and seasoned panko shrimp, house jalapeño remoulade, lettuce and tomato done up po' boy style $14
The Bandit Classic Burger: For those who live by the motto, "I do what I want," add cheese and your toppings $10
The Cowboy: 6 oz. of pure Angus loaded with pulled pork, pepper jack cheese, house-made Carolina BBQ sauce, sliced avocado and onion rings on a brioche bun  $15
The Smokin' Gun: 8 oz. of Angus bliss overstuffed with jalapeños and cream cheese and topped with our own six-shooter sauce $12
So Clucking Good: Grilled chicken, garlic butter, avocado, lettuce, tomato and jalapeno ranch on a brioche bun $10
The Cuban Bee: Our signature pulled pork, capicola ham and Swiss cheese topped with dill pickles and our house-made Cuban Bee sauce, served on a toasted garlic Parmesan hoagie $14
The Gunslinger: Angus patty topped with pepper jack cheese, chili, sour cream and two onion rings on a brioche bun $12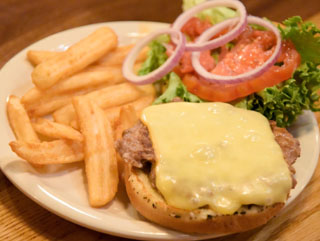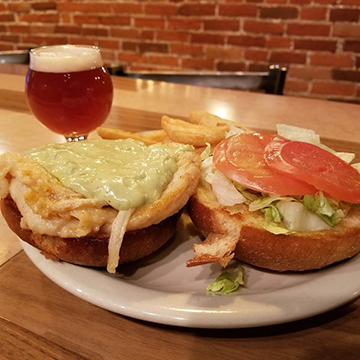 Our personal pizzas are served on artisan flat bread with house sauce.
Build Your Own Za: Choose up to five from our select toppings.
Meatball
Pepperoni
Bacon
Capicola ham
Banana peppers
Black olives
Red onions
Pineapple
Mushrooms
In the Garden Grinder: Bell peppers, tomatoes, red onion, banana peppers and mozzarella cheese topped with our house-made Italian dressing, served with bottleneck fries $12
Meat Lover's Grinder: Our 'za sauce, capicola ham, pepperoni, meatballs, bacon and mozzarella cheese, served with bottleneck fries $14
Tickle My Pickle 'Za: House-made garlic sauce, Parmesan and mozzarella cheese and a generous helping of dill pickles $9
The Bandit Classic 'Za: Meatball, ham, bacon, pepperoni, banana peppers, onions, black olives and extra mozzarella cheese $10
The Brewladen 'Za: Our twist on a German favorite! Naan crust with a light garlic butter base, topped with ribeye, bacon, Gouda, onion, pickles and Killer Bee mustard Q $10
Chili Cheese 'Za: Our beer cheese is the base, followed with chili beef, tomato, red onion, cheese and bacon $10
Surfin' Heifer 'Za: Garlic Parmesan sauce, with ribeye, Cajun shrimp, tomato, red onion and Gouda $12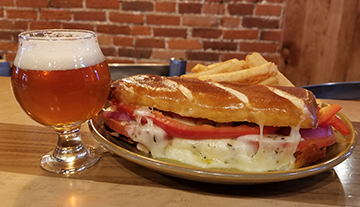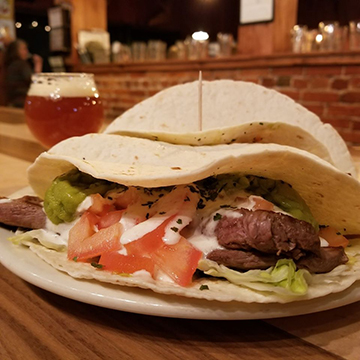 Pulled Pork Mac 'N Cheese: Pulled pork, bourbon sriracha & queso $10
Fish 'N Chips: Flaky white cod and our golden shoestring fries, served with vinegar and tartar sauce $12
Gator's Nest: Our house-breaded alligator tail, served on top of fresh lettuce and shoestrings $11
Turf (& Surf): 14 oz. ribeye prepared to order and served with veggies, your choice of fry and a roll $24, add five panko shrimp, $28
Bandolero Quesadilla: Grilled chicken, Mexi-blend cheese, tomatoes and pineapple drizzled with Southwest ranch and Parmesan sauce then sandwiched between a tomato basil wrap $12, add chips & salsa for $2
Surfside Tacos: Three tacos served in corn tortillas with blackened cod, red cabbage, onions, sour cream, avocado slices, jalapeños and freshly squeezed lime, with a side of chips and salsa $12
Bandit Safari: Sampler of our popular exotics, including New Zealand elk meatballs, USDA duck breast, a flank of venison and our farm-raised camel $20
New Zealand Elk Sandwich: Up to 70% leaner than beef, no GMOs and organically raised, our elk is topped with house-made Greek yogurt sauce, lettuce and tomato, served with bottleneck fries $16
Chicken Strip Basket: Five, deep-fried strips with our bottleneck fries $11
Gyro: Lamb or roast beef on naan bread with tomato, lettuce, onion and drizzled with tzatziki sauce, served with shoestring fries $12
Buck Wild: Three venison tacos served with house-crafted horseradish ranch, shredded feta, tomato, lettuce, guacamole and dried cilantro $17
Chicken Marsala: Breaded chicken breast with house-made marsala sauce, baby portabella mushrooms and onions, served with grilled veggies and choice of fries $16
Blackened Haddock: Blackened haddock fillets served with grilled veggies, choice of fries and a roll $16
Veggie Mac & Cheese: Baby portabella mushrooms, onions and bell peppers topped with our queso mac & cheese $8
Camelback Mac: Queso, beer cheese, ground camel and scallions top a bed of macaroni $14
Duck Kabobs: Skewered with portabella mushrooms, cherry tomatoes, onions and grilled duck, served with our house-crafted mushroom risotto $18
Wings
Traditional
Small $7, Large $14
Boneless
Small $9, Large $15
Choice of Sauce:
House-made Killer Bee mustard-Q
BBQ
Chili lime
Buffalo
Spicy garlic
Bourbon sriracha
Hellfire strawberry sriracha
Caribbean jerk
Garlic Parmesan
Spicy teriyaki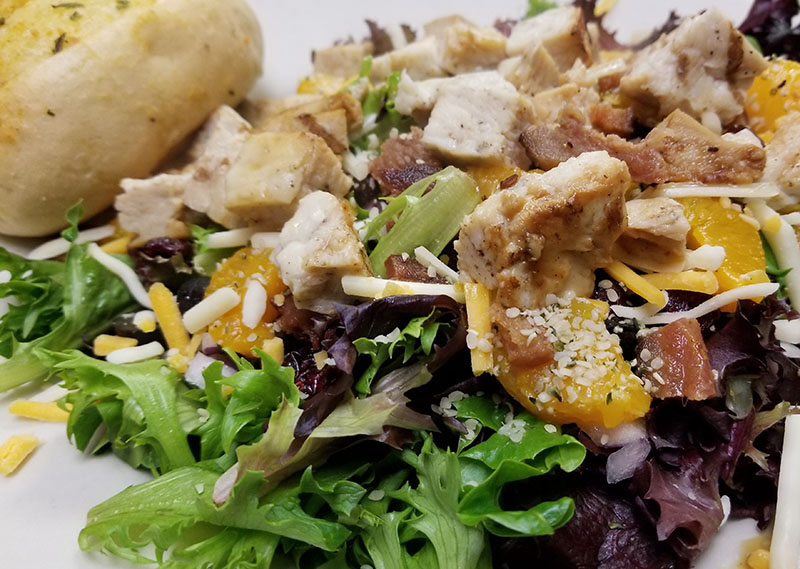 Fiesta Lime Chicken: Boneless chicken breast, black beans, corn, rainbow peppers and crispy tortilla strips $12
Greek Gyro Salad: Heritage blend greens, slow cooked lamb, tomatoes, black olives, onions, garbanzo beans, croutons, tzatziki & feta cheese $12
Black & Bleu Salad: Thinly sliced ribeye, tomatoes, onions, croutons, bleu cheese crumbles, and dressing $13
Dressings:
Ranch
Bleu cheese
French
Caesar
Thousand island
Raspberry vinaigrette
Honey mustard
Italian
Savory Jalapeño Chili: House-made Louisiana inspired chili served with our house-made cornbread $8
Soup de Jour: Ask us!
Sides, For the Kiddos & Sweet Cravings
Sides
Fried Brussels sprouts with pork belly, red onions, po' boy seasoning, asiago cheese & balsamic drizzle $5
Brussels sprouts $3
Cottage cheese $2
Applesauce $2
Shoestring fries $2
Veggies $2
Bottleneck fries $3
Onion rings $3
Mac & cheese $3
Side salad $3
Sweet Cravings
Creme Brulee: A velvety custard base topped with caramelized sugar & select seasonal fruit $7
Keep it Tart: House-made brownie surrounded by blueberries, raspberries and strawberries, topped with chocolate sauce and real whipped cream $7
For the Kiddos
Chicken Strip Basket: Two chicken strips served with shoestring fries $4
Kids Grilled Cheese: Sliced American cheese on toasted white bread, served with shoestring fries $4
Kiddie Burger: 3 oz. hamburger and shoestring fries $4, add cheese for 50 cents
Beverages
Soda $2
Apple juice $2
Lemonade $2
Handcrafted root beer $3, $1 refills
Root beer float $5
House Cocktails
Frigorific Margarita with Patron on the rocks $7
Dirty Martini with Grey Goose $7
Bloody Mary with Grey Goose $7
Two Bandits Long Island with Grey Goose, Captain Morgan, Reefeater & Patron $10
Bandit Boozie Smoothie with strawberries, raspberries, blackberries, raspberry sherbert and sweet red wine $7
Green Hornet a refreshing blend of lime sherbert blended with semi-sweet white wine and ice $7
Wines

By the glass $6, by the bottle $24, or a f
light of 4 samples $12
Reds
Stoney Ridge Marquette, dry, light bodied and similar to a pinot noir, this light-bodied estate varietal is juicy and fruity
The Renegade, semi-sweet, crafted by Stoney Ridge especially for Two Bandits, this is a masterful blend of marquette & foch with earthy blackberry and coffee tones
Leisure Time Kellner Red, semi-sweet, smooth and classic, pairs well with rich dishes and meats
Benfield Blissful Blackberry, semi-sweet, with a burst of fruit that's great with lighter dishes, spicy cuisine or dessert
Rose
Stoney Ridge Fronteac, semi-sweet, goes well with many proteins and has an essence of juicy cranberries
Stoney Ridge Barn Dance Blush, sweet, a delicious blend that's easy to drink
White
Stoney Ridge Elegant Farmer, semi-dry, crisp and well-balanced, very fruity and refreshing
Stoney Ridge Vineyard Dew, semi-sweet, similar to a Riesling with a fantastic vanilla bean bouquet and subtle notes of pear
Stoney Ridge Barn Dance White, sweet, blended with Niagara grapes and easy to drink
Stoney Ridge Rhubarb, sweet, 100% local rhubarb provides sweet and tart 
Stoney Ridge Blueberry Crisp, sweet, 100% blueberries with a full fruity finish
Leisure Time Hocus Pocus, semi-dry, a perfect blend of chardonnay and pinot grigio