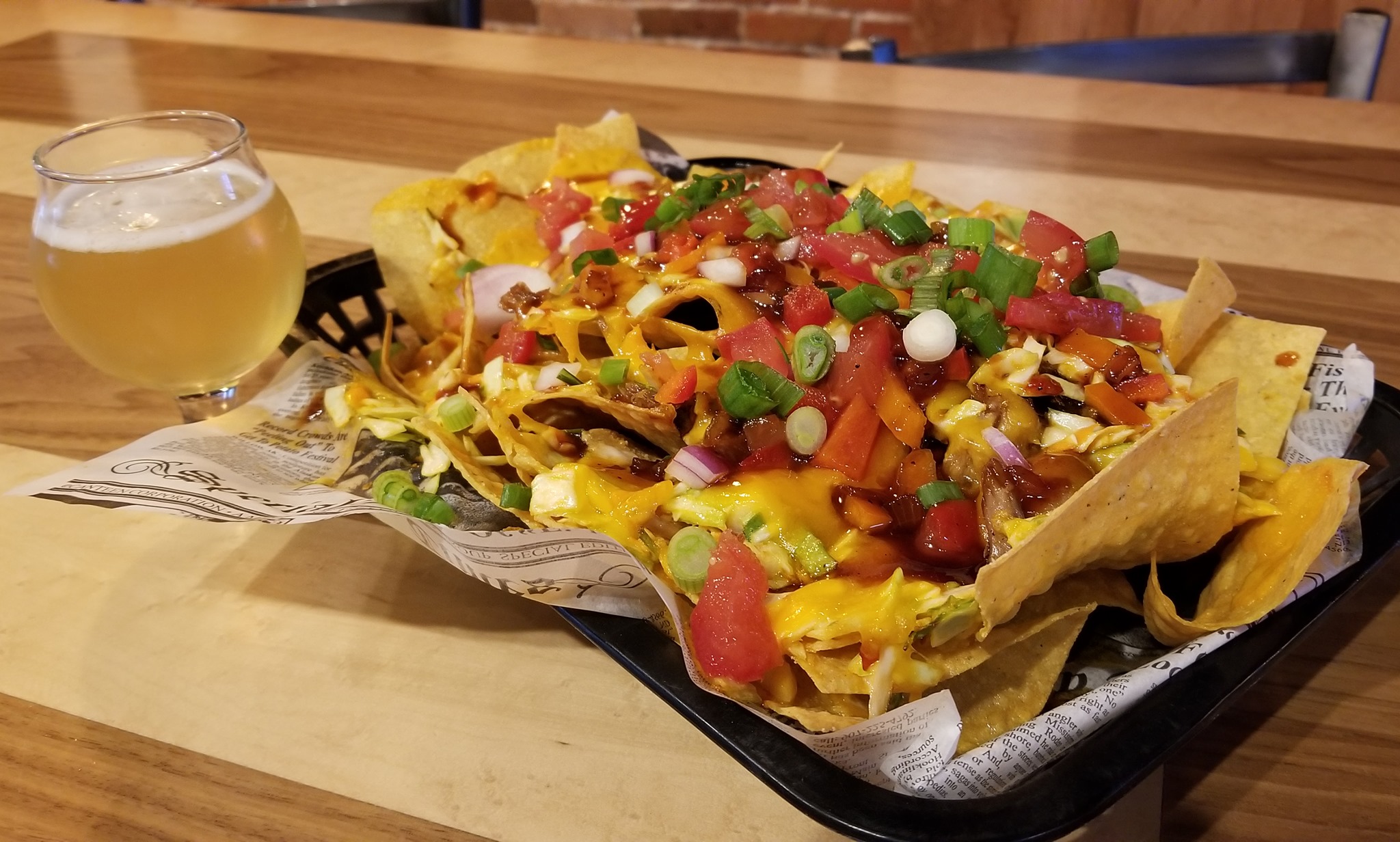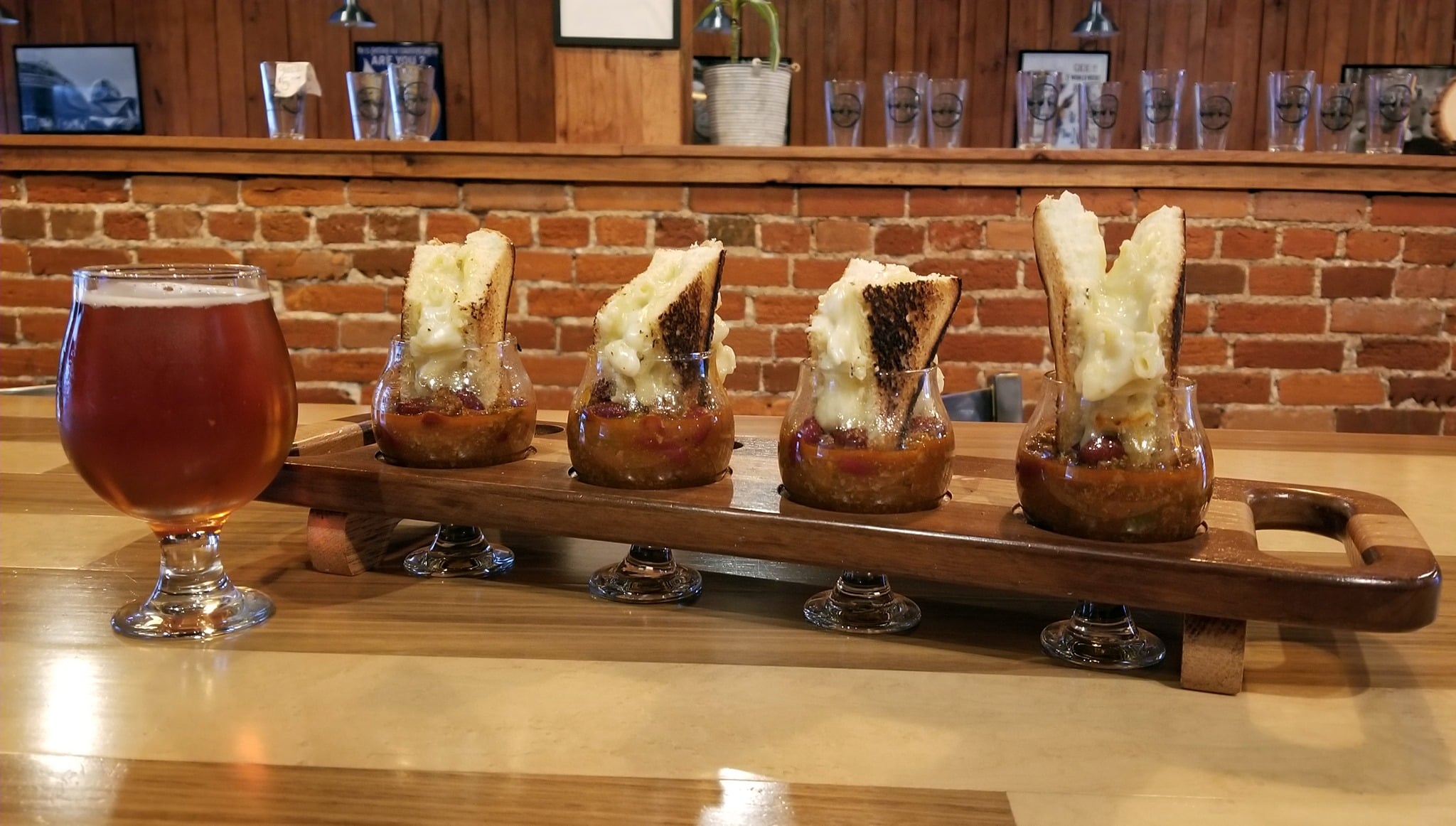 Canadian Cardiac Arrest: Our version of poutine starts with a bed of golden fries topped with pulled pork, pork gravy and Wisconsin cheese curds $8, add an egg for $1
Fried Pickles: A generous helping of delectable fried goodness, served with jalapeño-ranch dipping sauce $6
Great Balls of Mac: Mac and cheese balls with beer cheese and pork belly are breaded then deep-fried and topped off with a balsamic glaze $11
Genghis Khan Queso : Corn chips loaded with Korean-inspired pulled pork, house-made kimchi slaw, melted cheddar, tomatoes, onions and bell peppers $9
Breaded Cheese Curds: Deep fried Wisconsin white cheddar cheese curds served with marinara or ranch $11
Chili Cheese Fries: Shoestring fries topped with house-made jalapeño chili, cheddar cheese and sour cream $8
Spinach Artichoke Dip: Blend of four cheeses, spinach and artichoke baked to perfection and served with seasoned garlic bread or tortilla chips $9
Bandit Chili Shooters: Flight of mac & cheese toast points dunked in house-made jalapeño chili  $9
Can Nachos: Pulled pork, tomatoes, onions, black beans, black olives and rainbow bell peppers are all topped with guacamole, jalapeños, queso sauce, salsa and sour cream $15
Jalapeño Poppers: Cream cheese stuffed poppers served with our house-made hell fire strawberry sriracha sauce $9
Bavarian Pretzel Sticks: Baked and served with beer cheese or mustard-q $10
Loaded Brussels Sprouts: Deep fried, loaded with pork belly and red onion, then topped with a balsamic glaze and shaved parmesan $5
Bandits Trio: Three of our select kickstarts, served with your choice of three sauces $13
Truffle Fries: Shoestring fries tossed in white truffle oil and topped with parmesan cheese and parsley $7
Pulled Pork: Slow-cooked pulled pork served on a brioche bun stacked with house-made slaw and Carolina BBQ sauce $12
Chicken Queso Wrap: Spinach wrap loaded with grilled or fried chicken, lettuce, cheese, tomatoes, peppers and avocado topped with white queso, with chips & salsa on the side $12
The Philly: Your choice of chicken or hand-cut ribeye, topped with grilled onions and peppers, beer cheese and Swiss, served with shoestring fries $13/$16
Hoosier Daddy: Jumbo, hand-cut breaded pork tenderloin served on a brioche bun with dill pickle chips and house-made horse bee sauce $14
Mamma Mia: Parmesan crusted chicken, house-made marinara sauce, rainbow peppers & mozzarella, served with garlic parmesan fries $13
Big Ol' Jet Carolina: Six-ounce burger loaded with house-made chili, pulled pork, creamy slaw, Carolina BBQ sauce and Swiss cheese $15
Papa Pia!: Two, six-ounce patties loaded with pepperoni, mozzarella, and marinara, served with garlic parm fries $18
The Bandit Classic Burger: For those who live by the motto, "I do what I want," add cheese and your toppings $10, make it deluxe with chili, pulled pork or slaw for $2
Nashville Hot: Deep-fried breaded chicken breast tossed in buffalo sauce and served with dill pickles and lettuce $13
The Stampede Burger: Bison burger seasoned with blackened seasoning and smothered in blue cheese and Swiss, topped with grilled onion, lettuce and tomato $16
Hellfire & Brimstone: Grilled chicken breast baptized in hellfire sauce then topped with pulled pork, pepper jack cheese and jalapeño poppers $13
Beer Can Pheasant Sammie: Roasted pheasant with our Dead Frog IPA glazed with Carolina BBQ sauce, served on a ciabatta roll with dill pickles $12
Fungus Among Us: Six-ounce burger loaded with sautéed mushrooms, smoked gouda and grilled onions, served with truffle fries $16
The Mother Clucker: Club sandwich with crispy or grilled chicken and hand-cut pork belly, lettuce, ranch, mayo and tomatoes $14, go no chicken and all bacon for $16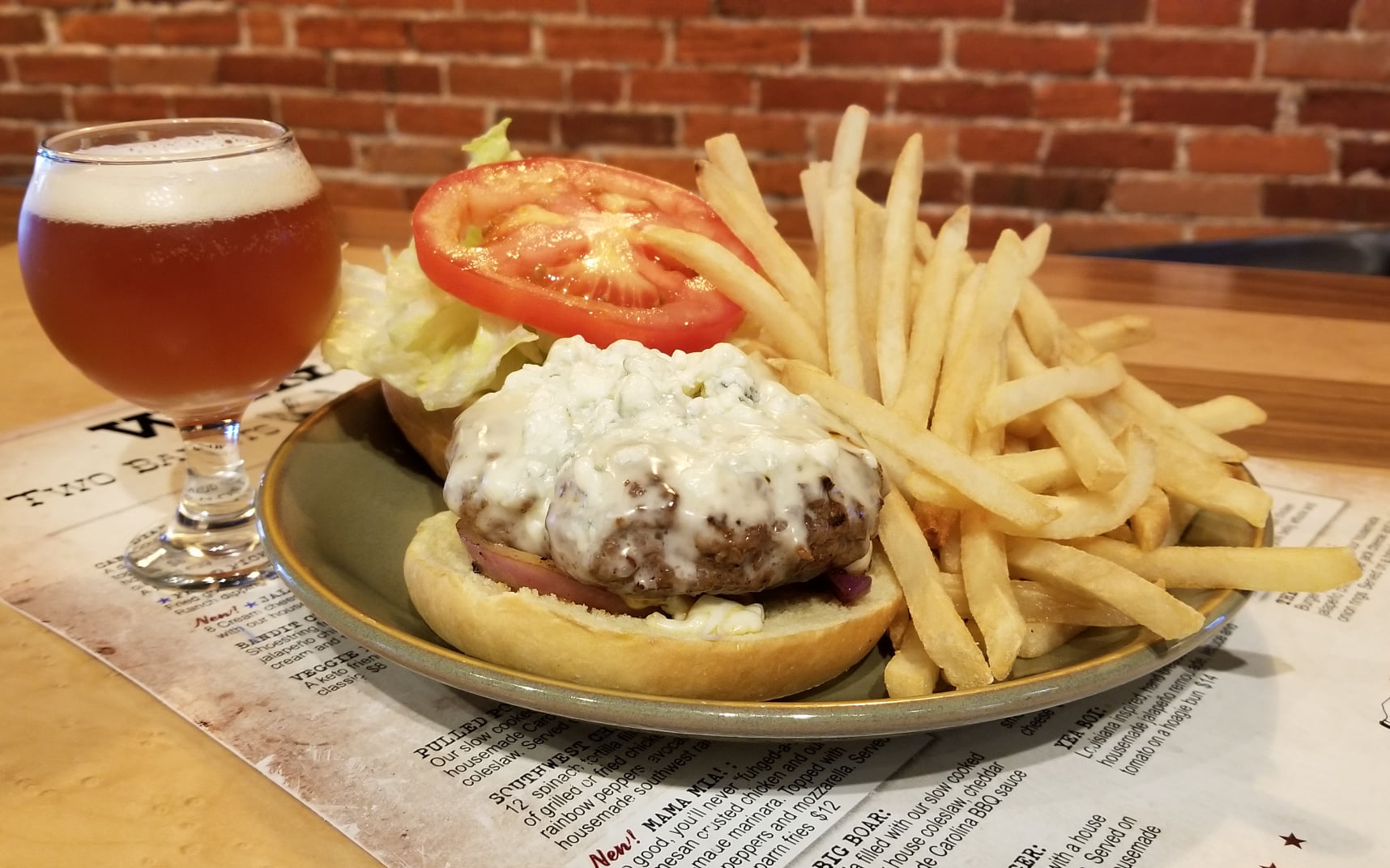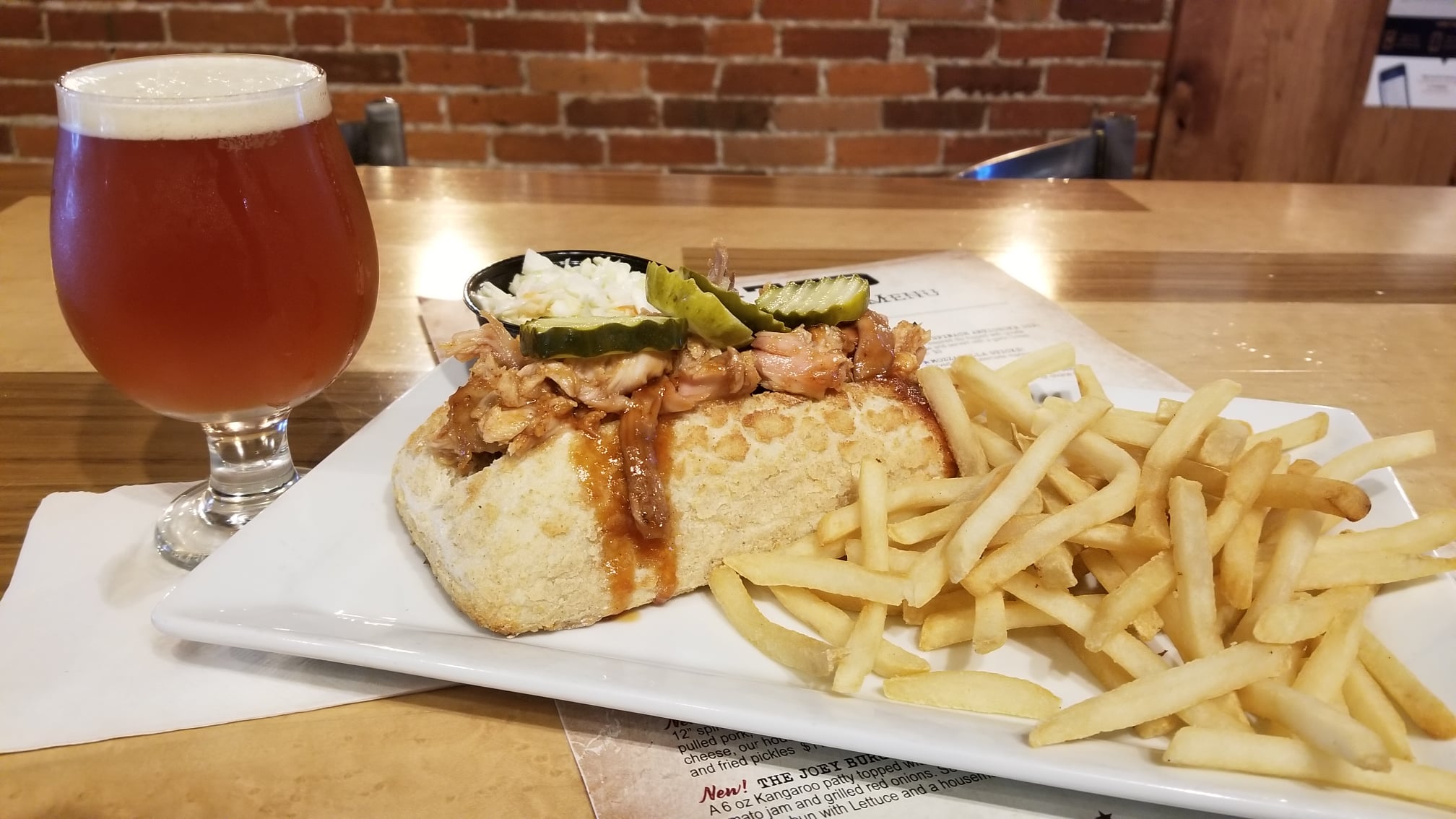 Our personal pizzas are served on artisan flat bread with house sauce.
Build Your Own 'Za: Choose up to seven from our select toppings $12
Meatball
Pepperoni
Bacon
Capicola ham
Tomatoes
Banana peppers
Red onions
Black olives
Bell peppers
Jalapeños
Mushrooms
Apples
The Spicy Thai 'Za: Spicy peanut butter base topped with shrimp, red pepper flakes and jalapeños, order it "crazy" for extra spice $13
Poutine 'Za: Pulled pork, shoestring fries, pork gravy and cheese curds all rest on a base of beer cheese $11
Tickle My Pickle 'Za: House-made garlic sauce, Parmesan and mozzarella cheese and a generous helping of dill pickles $10
The Brewladen 'Za: Our twist on a German favorite! Naan crust with a light parmesan garlic base, topped with ribeye, bacon, Gouda, onion and pickles  $13
Chili Cheese 'Za: House-made jalapeño chili topped with cheedar cheese on a base of beer cheese, garnished with sour cream and scallions $11
Surfin' Heifer 'Za: Garlic Parmesan sauce, with ribeye, Cajun shrimp, tomato, red onion and gouda $14
Peanut Butter Jelly Time: Diced apples, pork belly, cheddar cheese and a honey strawberry glaze on top of a peanut butter base $11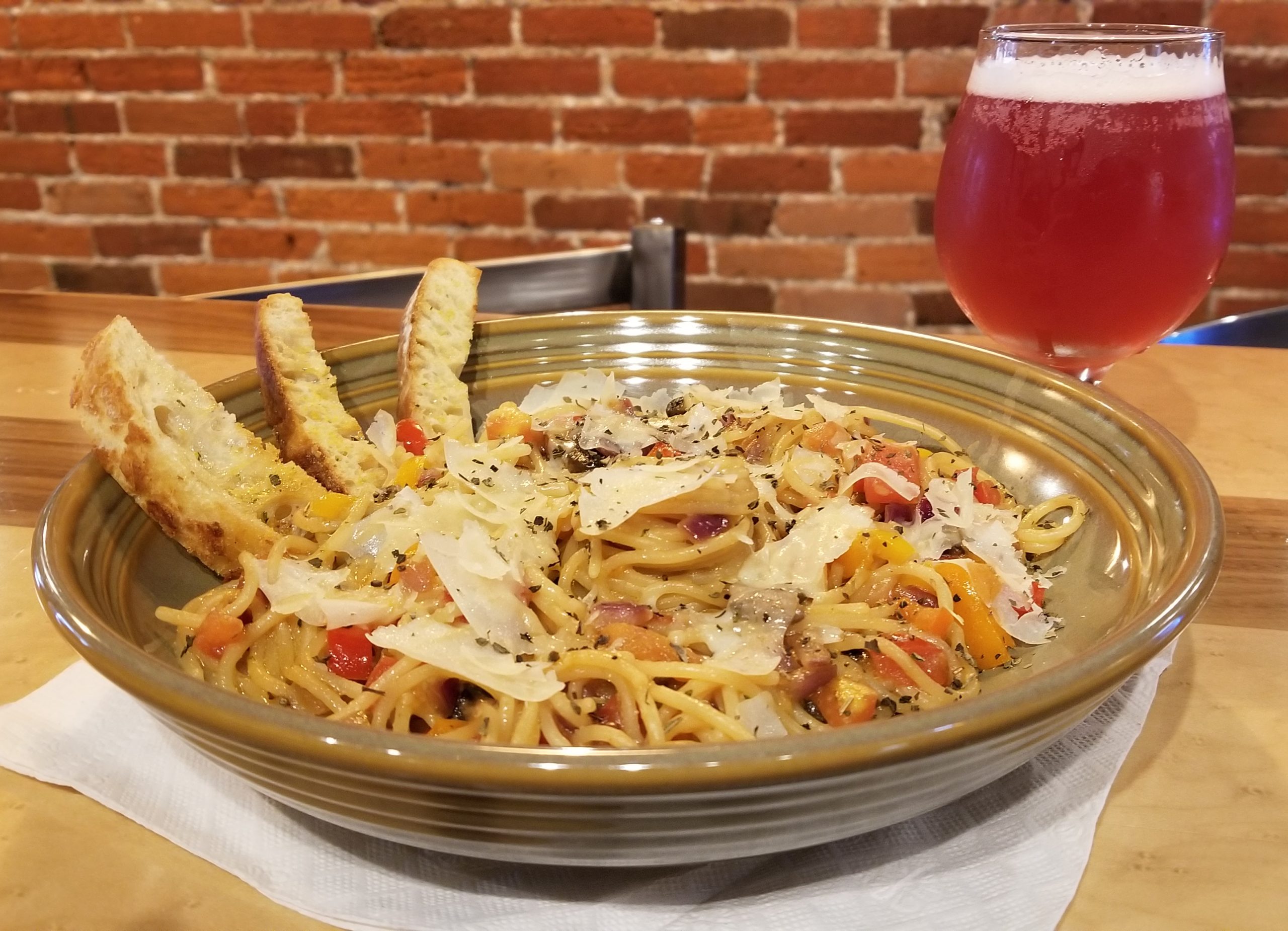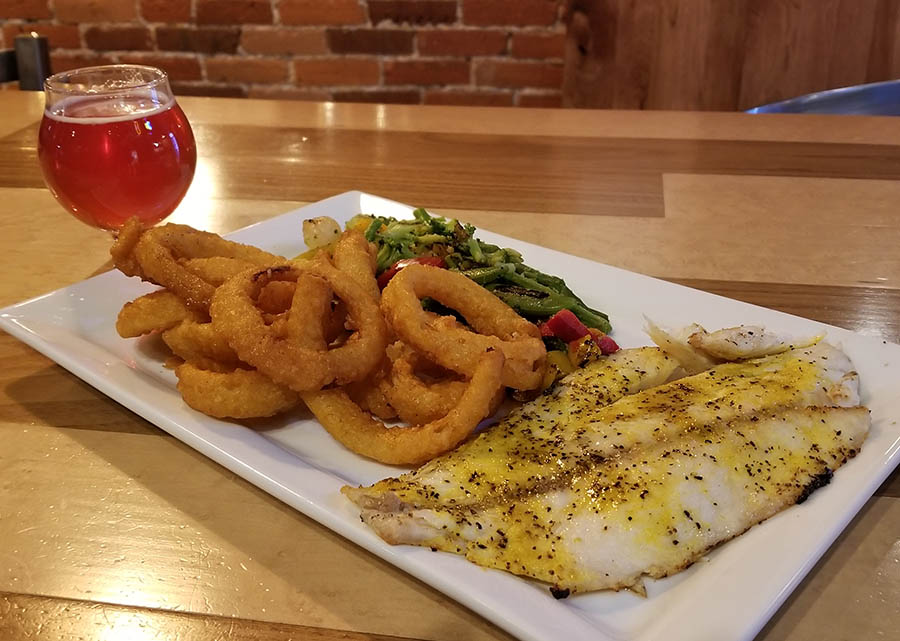 Pulled Pork Mac 'N Cheese: Pulled pork, bourbon sriracha & queso, served with crostini $10, lose the meet and opt for grilled veggies $9
Fish 'N Chips: Flaky white cod and our golden shoestring fries, served with creamy slaw $13
Turf (& Surf): 14 oz. ribeye seasoned with rosemary garlic & prepared to order, served with your choice of two sides $26, add a shrimp skewer for $4
Chimmy Chimmy Ya: Spinach wrap loaded with pulled pork, black beans, onions & black olives, deep fried then topped with white queso, onions, olives, tomatoes and peppers with a side of chips & salsa $11
Surfside Tacos: Three tacos served in corn tortillas with blackened cod, red cabbage, onions, sour cream, avocado slices, jalapeños and freshly squeezed lime, with a side of chips and salsa $12
Bandit Safari: Sampler of our popular exotics, including New Zealand elk loaf, pheasant, duck & bison $20
Lemon Garlic Scallops: Five scallops served with bacon tomato capellini pasta and parmesan garlic asparagus spears $19
Surf & Surf: Parmesan crusted barramundi fillet served with lemon pepper or blackened shrimp and lemon garlic scallops, plus your choice of side $22
Chicken Strip Basket: Five, deep-fried strips with garlic toast and your choice of side $12
Elk Meatloaf: New Zealand elk loaded with tomatoes, onions & peppers then topped off with our Carolina BBQ sauce and served with two sides $13
Duck Kabobs: Skewered with portabella mushrooms, cherry tomatoes, onions and grilled duck, your choice of two sides $18
Shrimp Tacos: Three corn tortillas filled with blackened grilled shrimp, house-made slaw, jalapenos and avocado, served with chips & salsa $12
The Down Under: Barramundi fillet done your way-blackened, lemon pepper or beer battered, served with your choice of two sides $15
Stuffed Pork Loin: Expertly seasoned and stuffed with apple, onion, garlic, sage & time, served with your choice of two sides $13
Bandit Bayou Bowl: Blackened shrimp served on a bed of parmesan alfredo capellini, served with crostini $14
Pasta Primavera: Capellini pasta tossed in olive oil and garlic and loaded with onion, bell peppers, mushrooms and tomatoes, served with crostini $11
Wings
Traditional
Small $9, Large $18
Boneless
Small $8, Large $16
Choice of Sauce:
House-made Killer Bee mustard-Q
House-made Carolina BBQ
Buffalo
House-made bourbon sriracha
House-made hellfire strawberry sriracha
House-made garlic parm
Dry Rubs:
Lemmon pepper
'Po boi
Garlic bread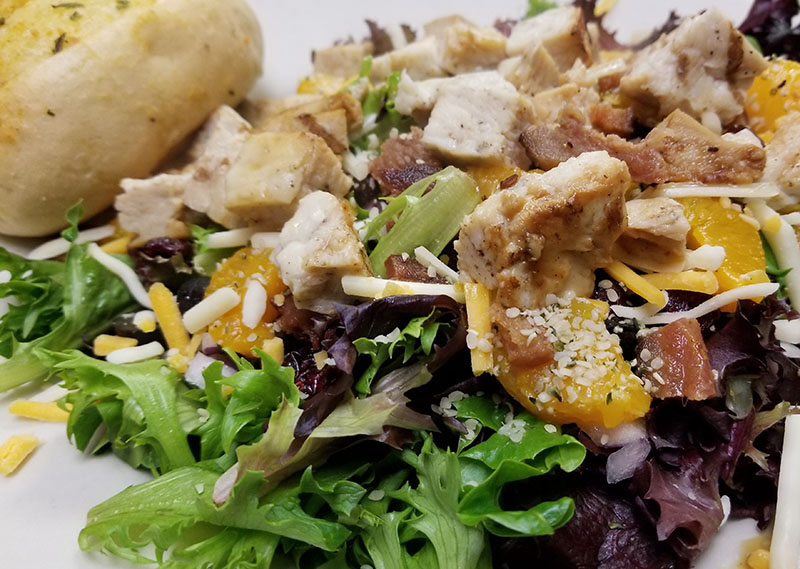 Crispy Chicken BLT: Leafy greens loaded with tomatoes, peppers, cheddar and crispy chicken, served with crostini $14
Black & Bleu Salad: Thinly sliced ribeye, tomatoes, onions, croutons, bleu cheese crumbles, and dressing, served with crostini $15
House Salad: Loaded with tomatoes, onions & cheddar, served with crostini $5
Dressings:
Ranch
Bleu cheese
Thousand island
Raspberry vinaigrette
Honey mustard
Italian
Sides, For the Kiddos & Sweet Cravings
Sides
Fried Brussels sprouts $3
Applesauce $2
Shoestring fries $2
Asparagus $4
Onion rings $4
Queso mac $3
Side salad $3
Sweet Cravings
Campfire Snickers: Deep fried Snickers dredged in a graham cracker blend and served on a bed of marshmallow fluff, topped with caramel syrup $7
Apple Cobbler: Served with a scoop of vanilla bean ice cream and topped with caramel syrup $7
For the Kiddos
Chicken Strip Basket: Two chicken strips served with shoestring fries $4
Kids Grilled Cheese: Sliced American cheese on toasted white bread, served with shoestring fries $4
Kiddie Burger: 3 oz. hamburger and shoestring fries $4, add cheese for 50 cents
Grilled PB&J: Peanut butter & strawberry jam on grilled Texas toast, served with a side of applesauce $4
Beverages
Soda $2
Apple juice $2
Lemonade $2
Handcrafted root beer $3, $1 refills
Root beer float $5
House Cocktails
Frigorific Margarita with Patron on the rocks $7
Dirty Martini with Grey Goose $7
Bloody Mary with Grey Goose $7
Two Bandits Long Island with Grey Goose, Captain Morgan, Reefeater & Patron $10
Bandit Boozie Smoothie with strawberries, raspberries, blackberries, raspberry sherbert and sweet red wine $7
Green Hornet a refreshing blend of lime sherbert blended with semi-sweet white wine and ice $7
Wines

By the glass $6, by the bottle $24, or a f
light of 4 samples $12
Reds
Stoney Ridge Marquette, dry, light bodied and similar to a pinot noir, this light-bodied estate varietal is juicy and fruity
The Renegade, semi-sweet, crafted by Stoney Ridge especially for Two Bandits, this is a masterful blend of marquette & foch with earthy blackberry and coffee tones
Leisure Time Kellner Red, semi-sweet, smooth and classic, pairs well with rich dishes and meats
Benfield Blissful Blackberry, semi-sweet, with a burst of fruit that's great with lighter dishes, spicy cuisine or dessert
Rose
Stoney Ridge Fronteac, semi-sweet, goes well with many proteins and has an essence of juicy cranberries
Stoney Ridge Barn Dance Blush, sweet, a delicious blend that's easy to drink
White
Stoney Ridge Elegant Farmer, semi-dry, crisp and well-balanced, very fruity and refreshing
Stoney Ridge Vineyard Dew, semi-sweet, similar to a Riesling with a fantastic vanilla bean bouquet and subtle notes of pear
Stoney Ridge Barn Dance White, sweet, blended with Niagara grapes and easy to drink
Stoney Ridge Rhubarb, sweet, 100% local rhubarb provides sweet and tart 
Stoney Ridge Blueberry Crisp, sweet, 100% blueberries with a full fruity finish
Leisure Time Hocus Pocus, semi-dry, a perfect blend of chardonnay and pinot grigio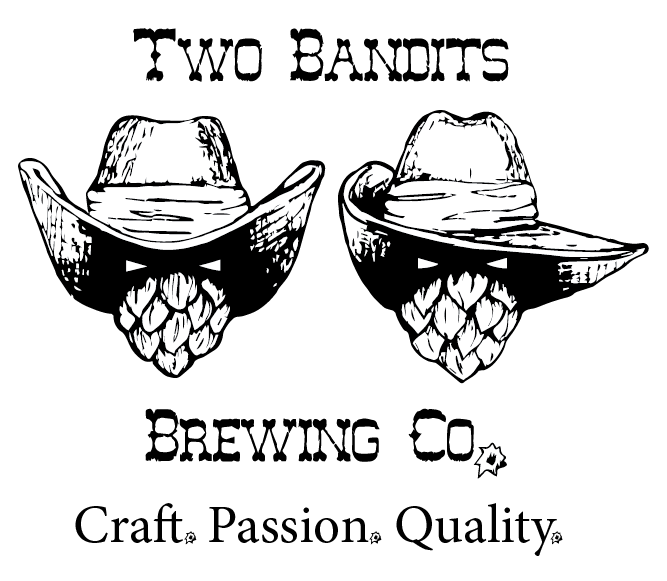 Hicksville Hours
Wed. & Thurs.: 5-9 p.m.
Fri. & Sat.: 3-9 p.m.
Coldwater Hours
Thursday: 5-9 p.m.
Fri. & Sat.: 3-9 p.m.