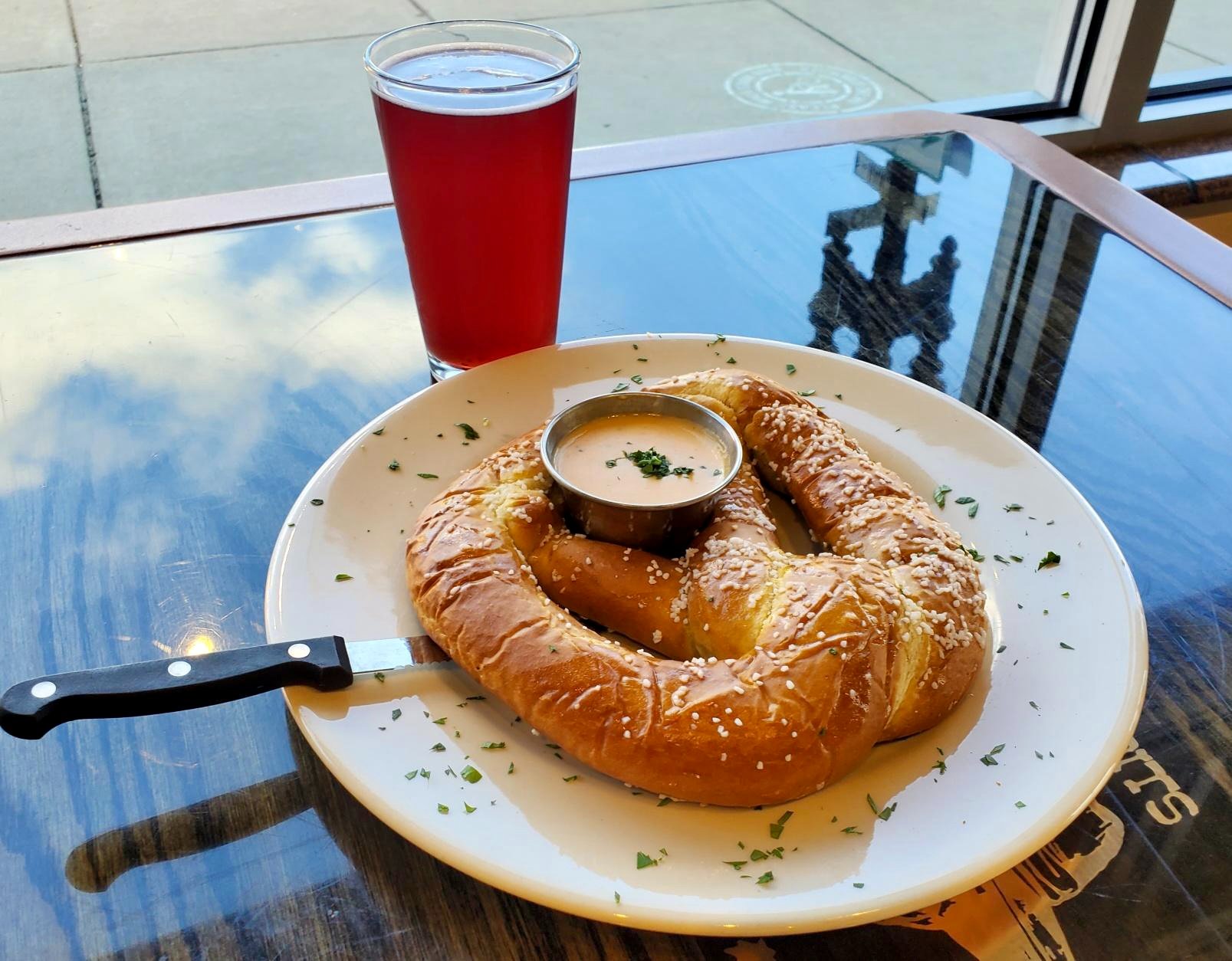 Cheese Curds: Generous serving of fried Ferry Farms cheese curds, hand battered in our own craft beer, served with your choice of ranch or marinara $14
B.F.P.: Large Bavarian pretzel served with choice of two sauces: beer cheese, queso or Killer Bee mustard $15
Sportsman's Paradise: Wild game plate, featuring samples of our current game selections: elk, duck & pheasant. Ask your server about any special extras! Market Price
Canned Nachos: Loaded with pulled pork, queso, tomatoes, onions, peppers, sour cream and pico $17.75
Loaded Brussels: Deep fried Brussels sprouts loaded with red onions and pork belly, topped with a balsamic glaze and parmesan $10
Bacon Scallops: Scallop & pork belly kabobs served with spicy & sweet Asian slaw $15
Pheasta Nachos: Tortilla chips loaded with seasoned pheasant, tomatoes, onions, green peppers, jalapenos and cheese $20
Farm Fresh: Featuring locally-produced Ferry Farms meats & cheeses and loaded with all the extras $24
Party Board: Perfect for a group of professional munchers! Extra large portions of our charcuterie selections served on a giant pretzel with choice of two dipping sauces: beer cheese, queso or Killer Bee mustard $32
Cheese Only: For all you cheese lovers $15
Cheese & Wine Board: Our cheese only board pairs with four wine selections $28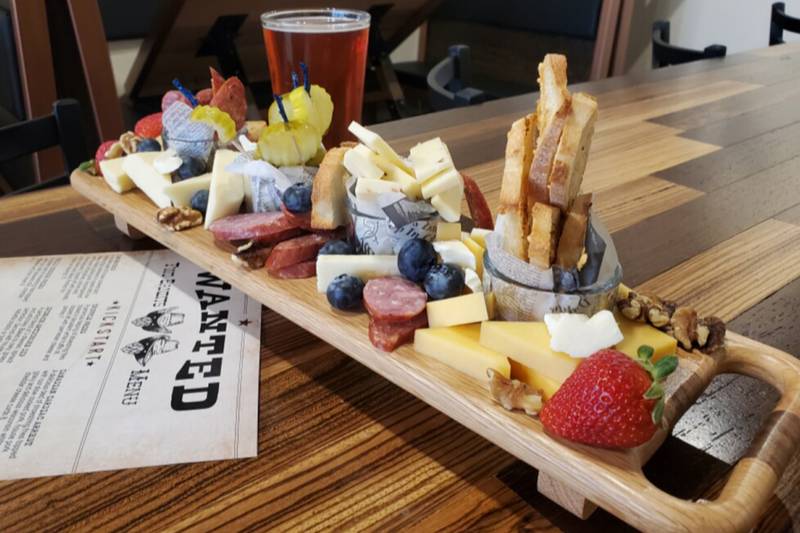 Sandwiches served with fries. Add an egg to any sandwich for $1. Add a side salad for $2.
Classic De-Lux : For those who live by the motto, "I do what I want," add cheese and your toppings to a burger or chicken breast $14; make it a double for $3 more; deluxe toppings for $2 each, pulled pork, pork belly, slaw
Havana Honey: Grilled capicola ham, pulled pork, Swiss cheese, pickles and craft-made Cuban sauce $14
Pulled Pork: Slow-cooked pulled pork topped with house-made creamy coleslaw & Carolina BBQ sauce, served on a brioche bun $12
King Queso: Two, 6-oz. burgers topped with Thousand Island, onion rings and queso $21
Bugle Boy: Elk sandwich with bacon jam, wine-infused onion and melted cheese $17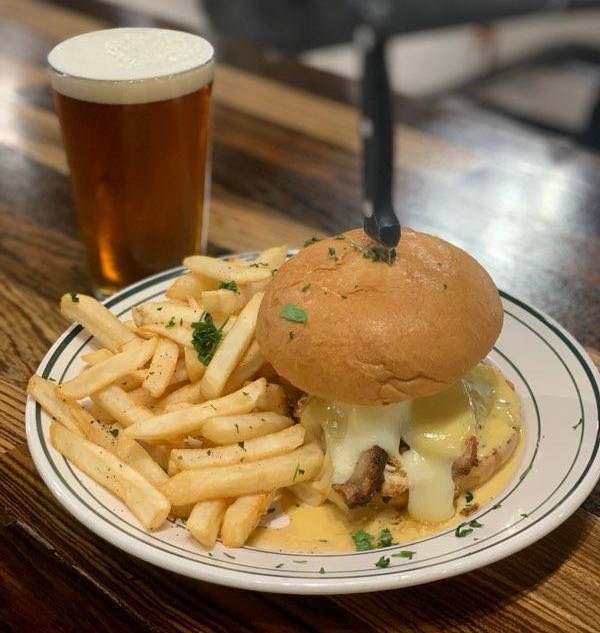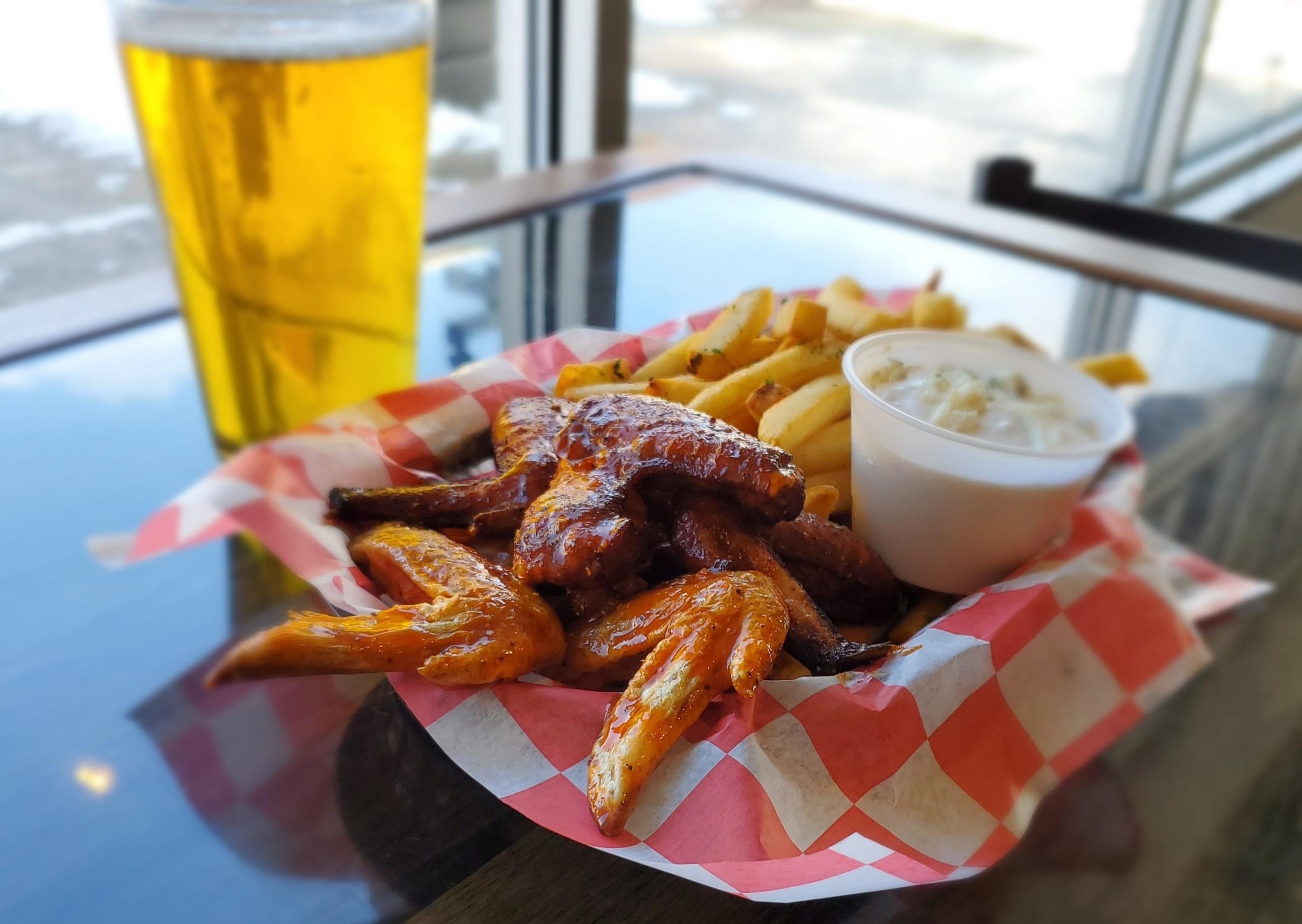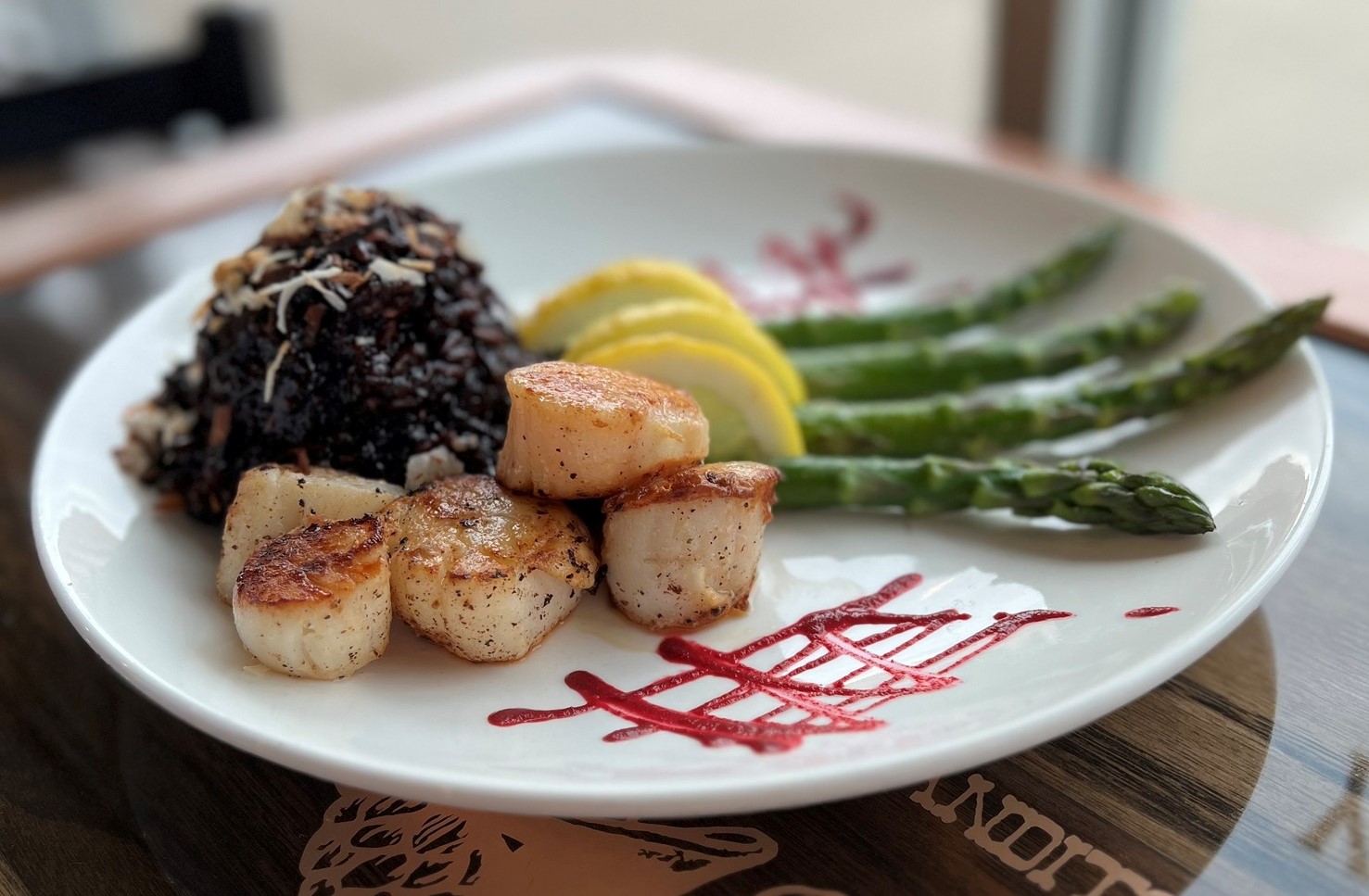 Swimchi Tacos: Grilled walleye with grilled corn tortillas stuffed with homemade kimchi, side of chips & salsa $16 
Penne Primavera: Vegetables, penne pasta and a light cream sauce $17; add chicken, pork belly, salmon, scallops or steak for $6
Pomegranate Duck: Pan-seared duck with pomegranate sauce and your choice of two sides Market Price
Open Range: 1/4 pheasant grilled and topped with compound cowboy butter, served with your choice of two sides Market Price
Fish & Chips: Walleye lightly battered in our own London Called brown ale served with French fries and tarter sauce $16
Pulled Pork Mac: Queso mac topped with pulled pork and our bourbon Sriracha sauce $13
Coconut Scallops with Sticky Rice: Scallops served with sticky rice and asparagus, topped with bang-bang sauce $24
Strip Steak: Black Angus hand-cut steak served with your choice of two sides, Market Price; choose 14 oz. or 22 oz. (22 oz. served rare, medium rare or medium only)
Canadian Cardiac Arrest: Fries loaded with pulled pork, gravy and cheese curds $12
Whole Wing Basket: Five wings tossed in a sauce of your choice and served with fries $17; sauces: BBQ, bang-bang, bourbon Sriracha, buffalo, garlic parmesan or lemon pepper (wet or dry)
Sides: Fries, chips & salsa, coleslaw, cottage cheese, side salad, applesauce, queso mac, $3; sticky rice, onion rings, grilled veggies $4
Add a side salad to any meal for $2.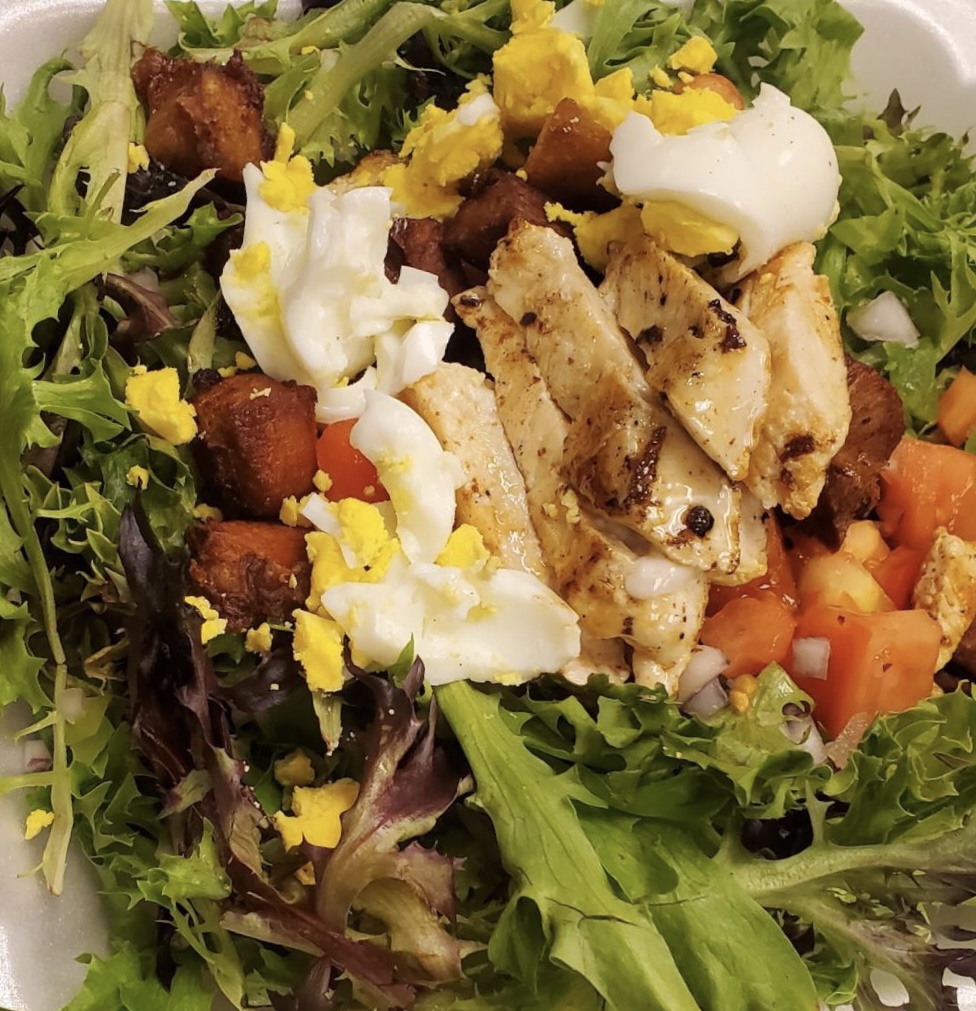 Space Hog: Grilled scallops & pork belly served on a bed of mixed greens with parmesan, onion, tomato and candied walnuts $18
Chick-a-Boom-Bang: Grilled or breaded chicken tossed in our bang-bang sauce with onion, tomato, green pepper & jalapeno $15
The Big Dill: Dill-crusted salmon on a bed of spinach with red onion, tomato, feta and lemon $16
Dressings:
Ranch
French
Italian
Killer Bee mustard
Thousand Island
Raspberry vinaigrette
Pizzas, For the Kiddos & Sweet Cravings
B.Y.O. 'Za: Choose your base & up to seven toppings, served on 8″ round naan $13
Bases: Beer cheese, queso, ranch, marinara, alfredo, Killer Bee mustard, bourbon Sriracha, garlic parmesan, Carolina BBQ
Toppings: Meatballs, pepperoni, chicken, pulled pork, pork belly bacon, tomatoes, red onions, pickles, bell pepper, jalapenos, cheddar, Amish creamery, mozzarella, house blend cheese
Sweet Cravings
Strawboozie Shortcake
Sundae on the Rocks
For the Kiddos
Chicken Strip Basket $6
Burger Basket $6
Grilled Cheese $6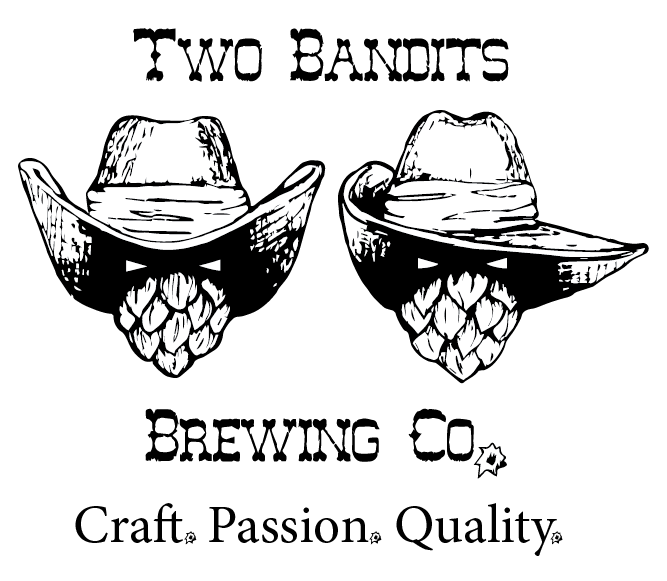 Hicksville, Ohio
Hours:
Wed. & Thurs.: 5-9 p.m.
Fri. & Sat.: 3-9 p.m.
Location:
106 E. High Street
Coldwater, Michigan
Hours:
Wednesday-Saturday
11 a.m.-9 p.m.
Location:
61 W. Chicago Street