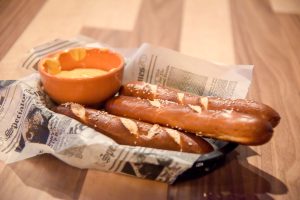 Canadian Cardiac Arrest: Our version of poutine starts with a bed of golden fries topped with pulled pork, pork gravy and local Ferry Farms cheese curds $10
Wisconsin Cheese Head: Generous serving of fried Ferry Farms cheese curds, hand battered in our own craft beer, served with your choice of sauce $12
Bavarian Pretzel Sticks: Baked and served with beer cheese or Killer Bee mustard-q $10
Can Nachos: Loaded with pulled pork, queso, tomatoes, onions, peppers, sour cream and salsa $16
Loaded Brussels: Deep fried Brussels sprouts loaded with red onions and pork belly, topped with a balsamic glaze and parmesan $6
Fog Horn's Cheese Fries: Deep fried chicken tossed in the sauce of your choice and served on top of fries smothered in melted cheese and a second sauce of your choice $13
Farm Fresh: Featuring locally-produced Ferry Farms meats & cheeses and loaded with all the extras $24
Cheese Only: For all you cheese lovers $15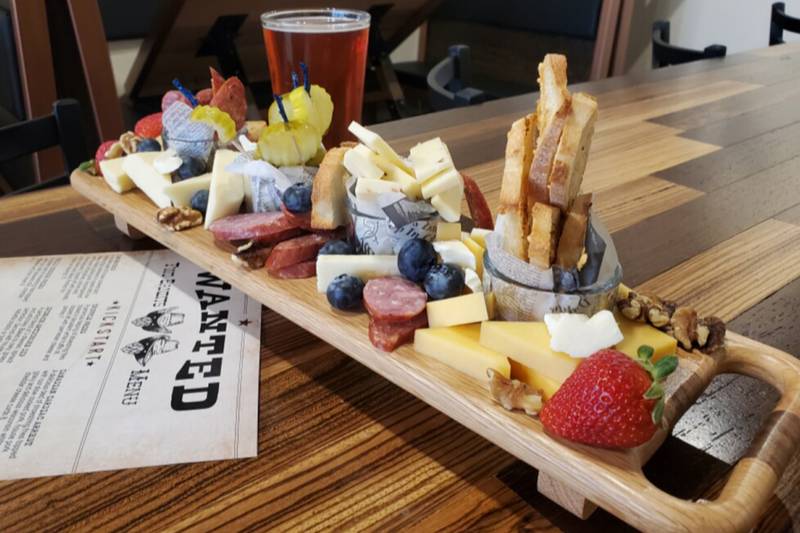 Signature Sandwiches
Sandwiches served with shoestring fries. Add an egg to any sandwich for $1.
Bandit Classic De-Lux : For those who live by the motto, "I do what I want," add cheese and your toppings to a burger $11; make it a chicken sandwich $13
Pastrami Smash: Pastrami topped with melted cheese, coleslaw and fries, served with your choice of side $16
Pulled Pork: Slow-cooked pulled pork topped with house-made creamy coleslaw & Carolina BBQ sauce, served on a brioche bun $12
Fried Milk Steak Sammie: Country fried steak topped with sautéed onions and peppers $16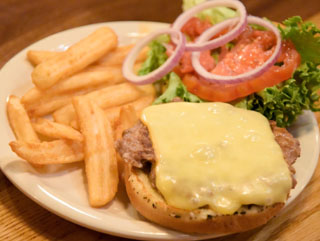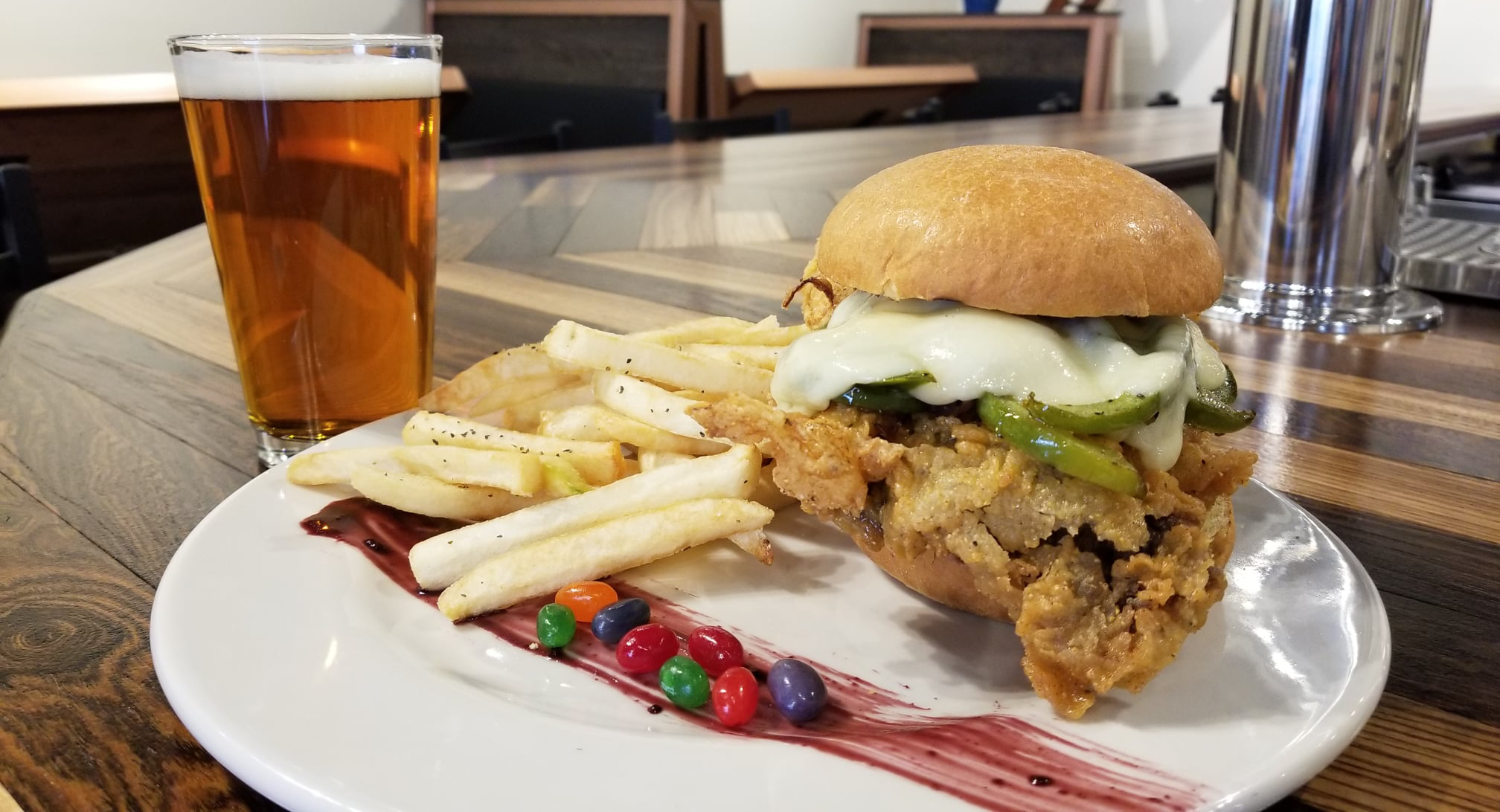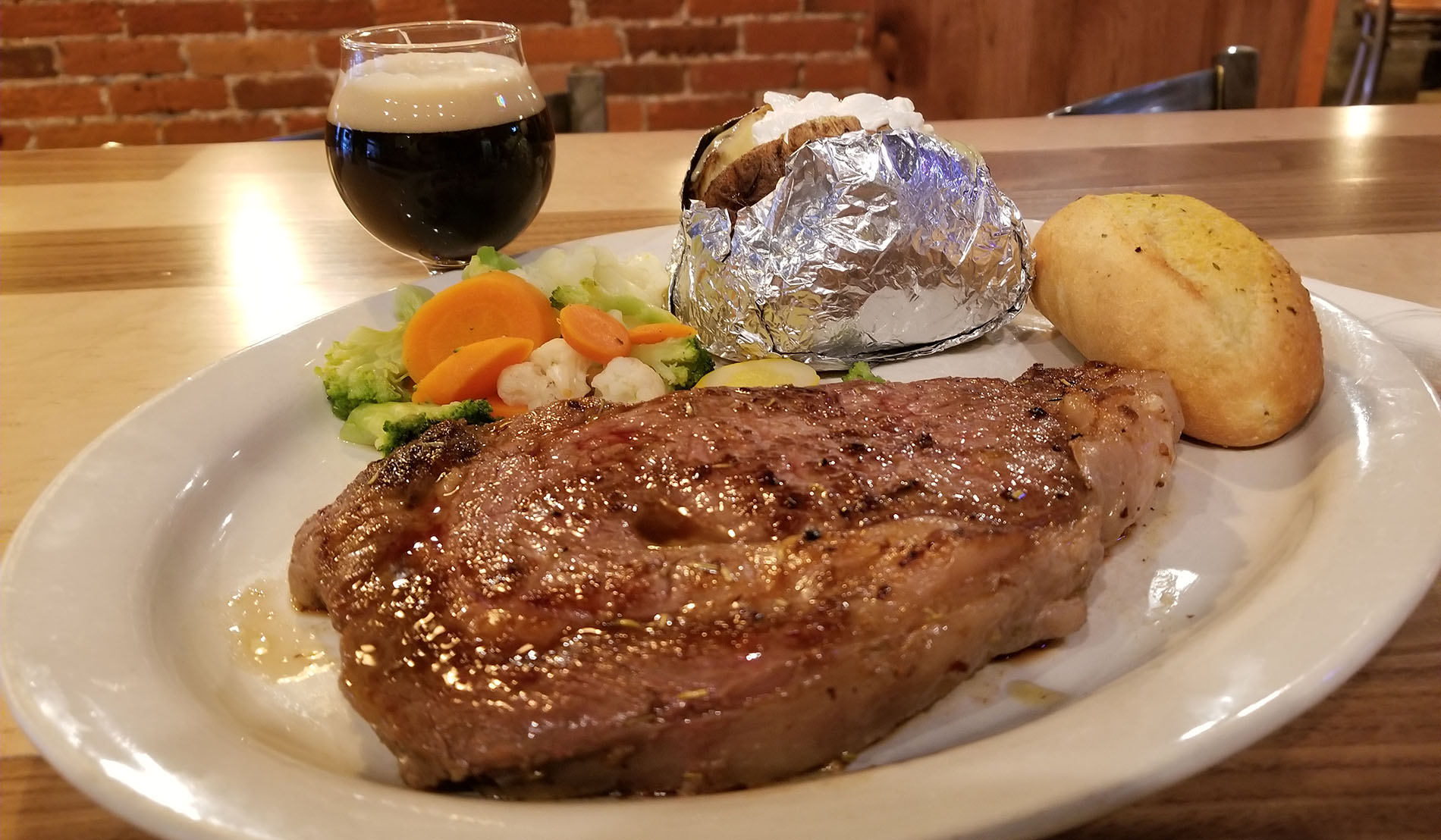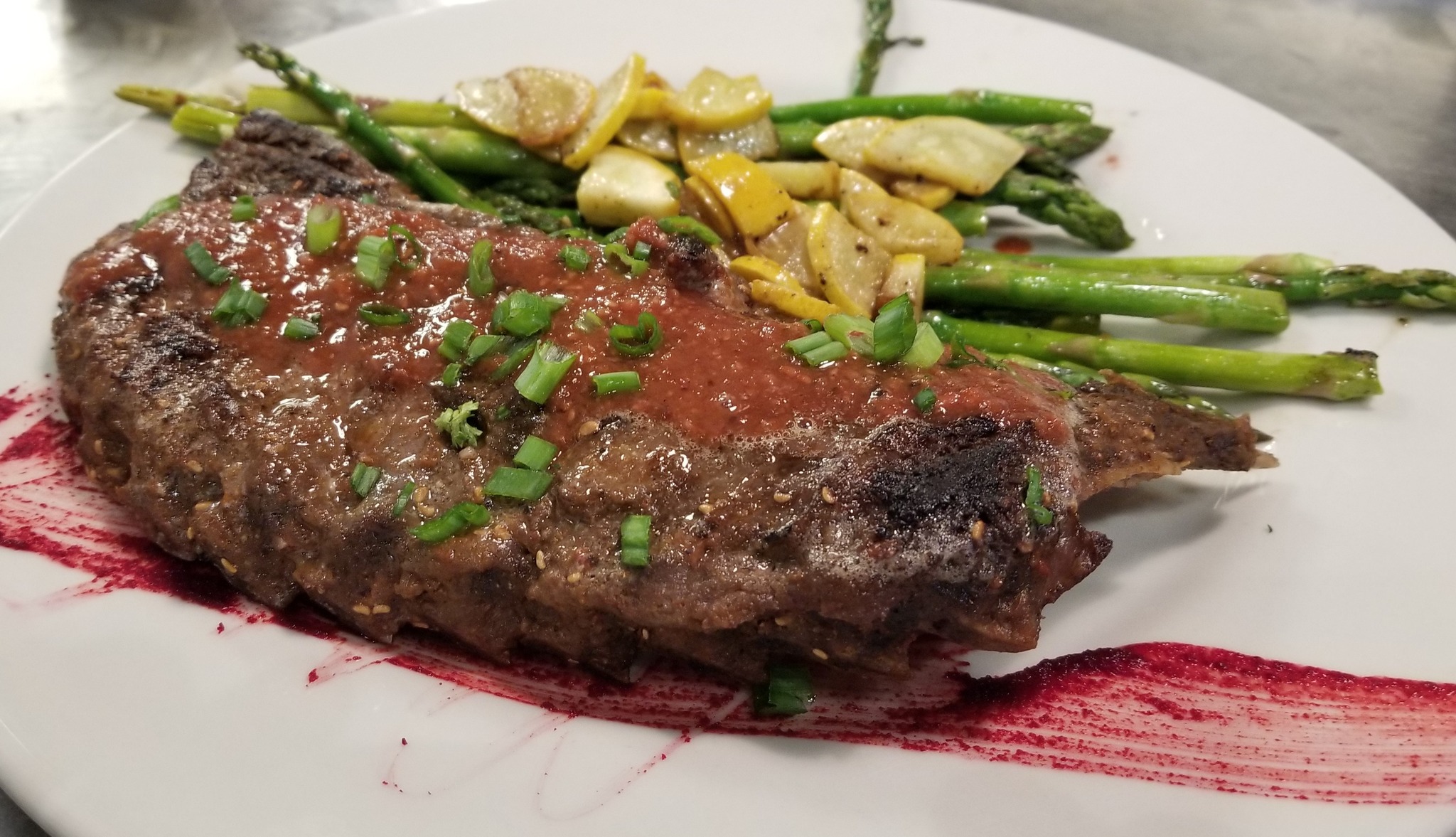 Pulled Pork Mac 'N Cheese: Pulled pork, bourbon sriracha & queso, served with crostini $12
Fish 'N Chips: Walleye lightly battered in our own London Called brown ale and our golden shoestring fries, served with coleslaw $15
NY Strip Steak: Butter aged 14 oz. hand-cut steak served with your choice of two sides, Market Price; add shrimp kabob $6
Bandit Safari: Sampler of our popular exotics, including alligator, duck and wild boar $20
Razz-Orback Ribs: Wild boar ribs slathered in our smoky sweet house-made Razzmanian Devil BBQ sauce, served with choice of two side Market Price
Duck Hunt Kabobs: House-marinated duck skewered with fresh seasonal vegetables, choice of two sides $18
The Death Roll: Gumbo stuffed alligator loin served with two sides Market Price
Surfside Tacos: Three tortillas filled with your choice of fish or shrimp, house slaw, jalapeños and red onions, served with house chips and salsa $14
That's Quack-Tastic: Tortilla chips topped with duck carnita, tomato, onion, bell pepper and jalapeños, smothered in melted cheese and chipotle sauce $20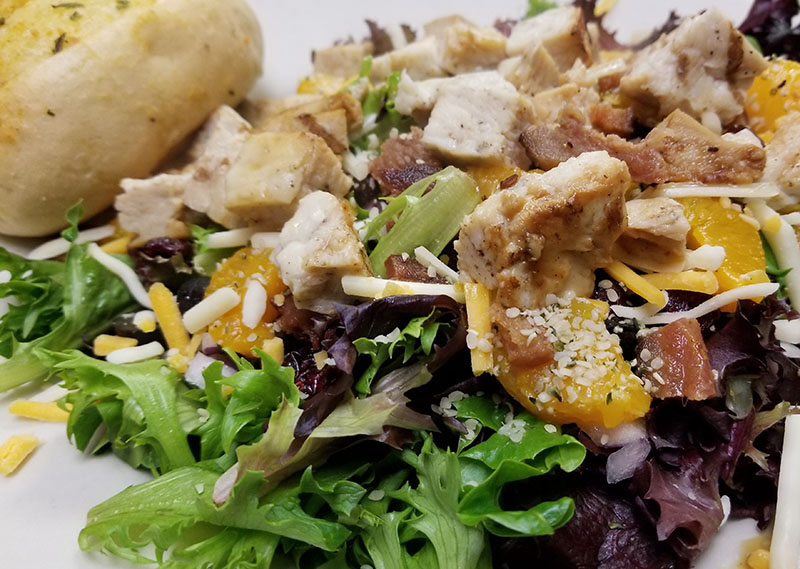 Chicken Club Cobb: Grilled or fried chicken, pork belly, green peppers, onion, tomato and hard boiled egg, served with your choice of dressing and a crostini $14
Southwest Steak: Seared strip steak, tortilla strips, onions, tomatoes and a creamy chipotle sauce $15
F***ing Catalina Wine Mixer: Marinated chicken, pork belly and strawberries; chef recommends our cherry lemon vinaigrette made with our own cherry wine $17
Dressings:
Ranch
Bleu cheese
Thousand island
Raspberry vinaigrette
Honey mustard
Italian
Cherry lemon vinaigrette
Sides, For the Kiddos & Sweet Cravings
Sides
Fried Brussels sprouts $3
Apple sauce $2
Shoestring fries $2
Asparagus $4
Onion rings $4
Queso mac $3
Side salad $2
Sweet Cravings
Black Shadow Brownie Bottom Sundae: House-made brownie using our own Black Shadow CMS served a la mode with caramel and strawberry garnish $8
Chummy Yumyum: Fried caramel oatmeal served a la mode $8
Velvet Elvis: Local honey peanut butter with strawberry jam sandwich topped with candied pork belly and banana, then fried Monte Cristo style $8
For the Kiddos
Chicken Strip Basket $5
Burger Basket $5
Grilled Cheese $4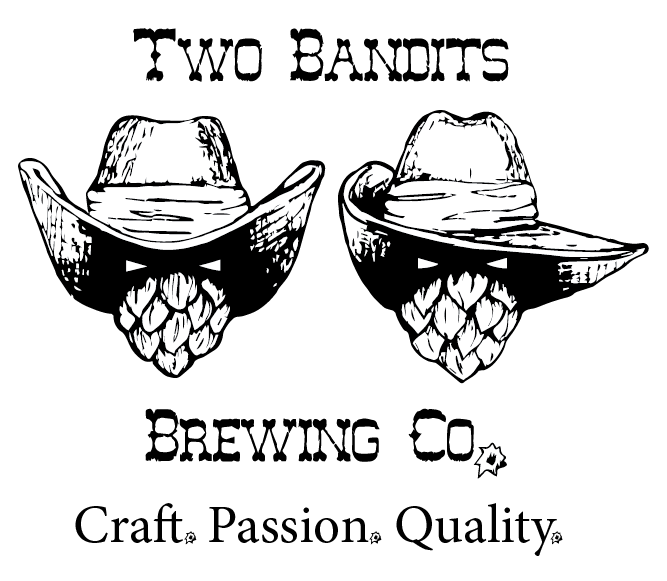 Hicksville & Coldwater Hours
Wed. & Thurs.: 5-9 p.m.
Fri. & Sat.: 3-9 p.m.
Come see us!
106 E. High Street, Hicksville, Ohio
61 W. Chicago Street, Coldwater, Michigan