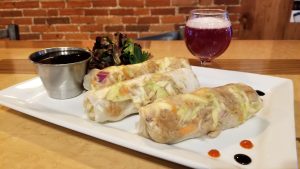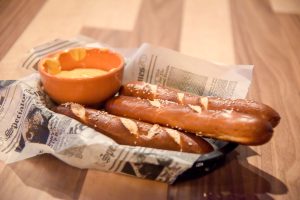 Canadian Cardiac Arrest: Our version of poutine starts with a bed of golden fries topped with pulled pork, pork gravy and Wisconsin cheese curds $8
Wisconsin Cheese Curds: Deep fried Wisconsin white cheddar cheese curds served with marinara or ranch $12
Bandits Bounty: Flight of gazpacho, tzatziki, beer cheese and Shirazi salad accompanied by an assortment of locally-sourced cheese, pretzel bites, parmesan crostini and baked pita bread $20
Bavarian Pretzel Sticks: Baked and served with beer cheese or mustard-q $10
Spring Rolls: Three spring rolls loaded with pork, onion, cabbage, carrots and rice noodles, served with your choice of sauce $12
Can Nachos: Loaded with pulled pork, tomatoes, onions, peppers, black beans, black olives, avocado, sour cream and salsa $16
New Englander Crab Dip: Real crabmeat paired with cream cheese, cheddar and a special blend of seasonings, served with parmesan crostini or tortilla chips $20
All sandwiches are served with your choice of side. Add an egg to any sandwich for $1.
Pulled Pork: Slow-cooked pulled pork served on a brioche bun stacked with house-made slaw and Carolina BBQ sauce $12
The Philly: Your choice of chicken or hand-cut ribeye, topped with grilled onions and peppers, beer cheese and Swiss, served with shoestring fries $14/$17
The Crabby Roll: Crab salad loaded on a toasted roll with spring mix $18
The Bandit Classic : For those who live by the motto, "I do what I want," add cheese and your toppings to a burger $11; make it deluxe with pulled pork, double patty, pork belly, house slaw, farm fresh egg $2; make it a chicken sandwich $13
Garden Grilled Cheese: Golden grilled cheese sandwich loaded with fresh veggies and spring mix $9
Gyro: Warm pita filled with sliced ribeye or chicken, lettuce, tomato, onion, feta and house-made tzatziki, $17/$14
The Big Buck: Farm-raised venison served with our house-crafted Carolina BBQ, slaw, jalapeños and pickles on a brioche bun $16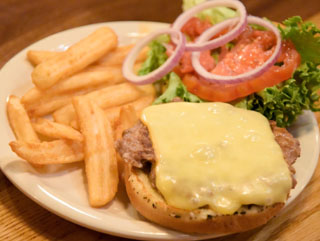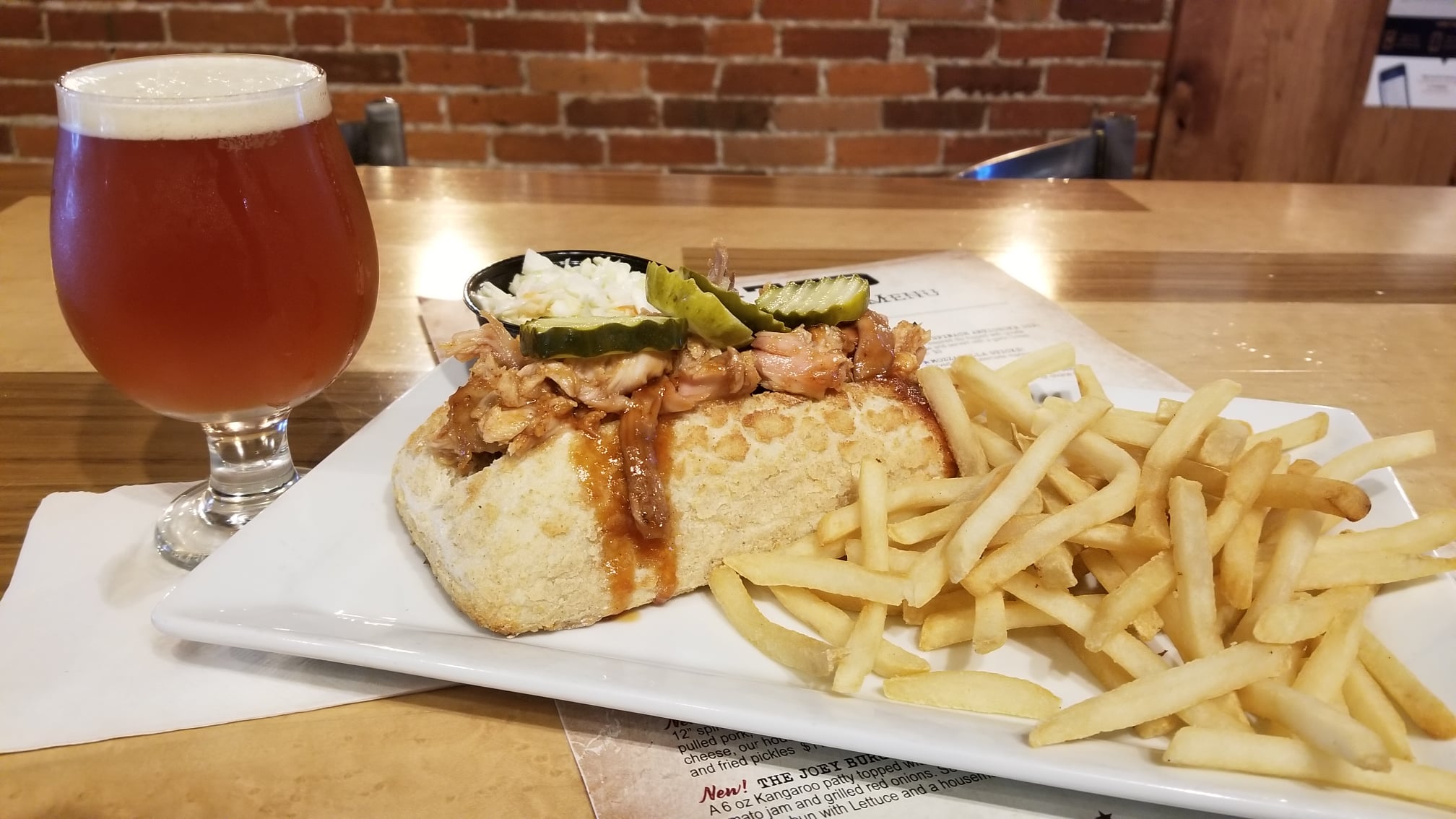 Served on 6×12 flatbread.
Build Your Own 'Za: Choose your base, up to seven different toppings, and mozzarella or cheddar cheese $12
Toppings
Meatballs
Pepperoni
Diced bacon
Ham
Tomatoes
Banana peppers
Onion
Black olives
Peppers
Jalapeños
Black beans
Pickles
Spring mix
Slaw
Bases
Marinara
Olive oil
Carolina BBQ
Hellfire
Bourbon sriracha
Parmesan garlic
Buffalo
Killer Bee mustard-q
Additions
Pulled pork $4
Chicken $4
Sliced ribeye $4
Shrimp $5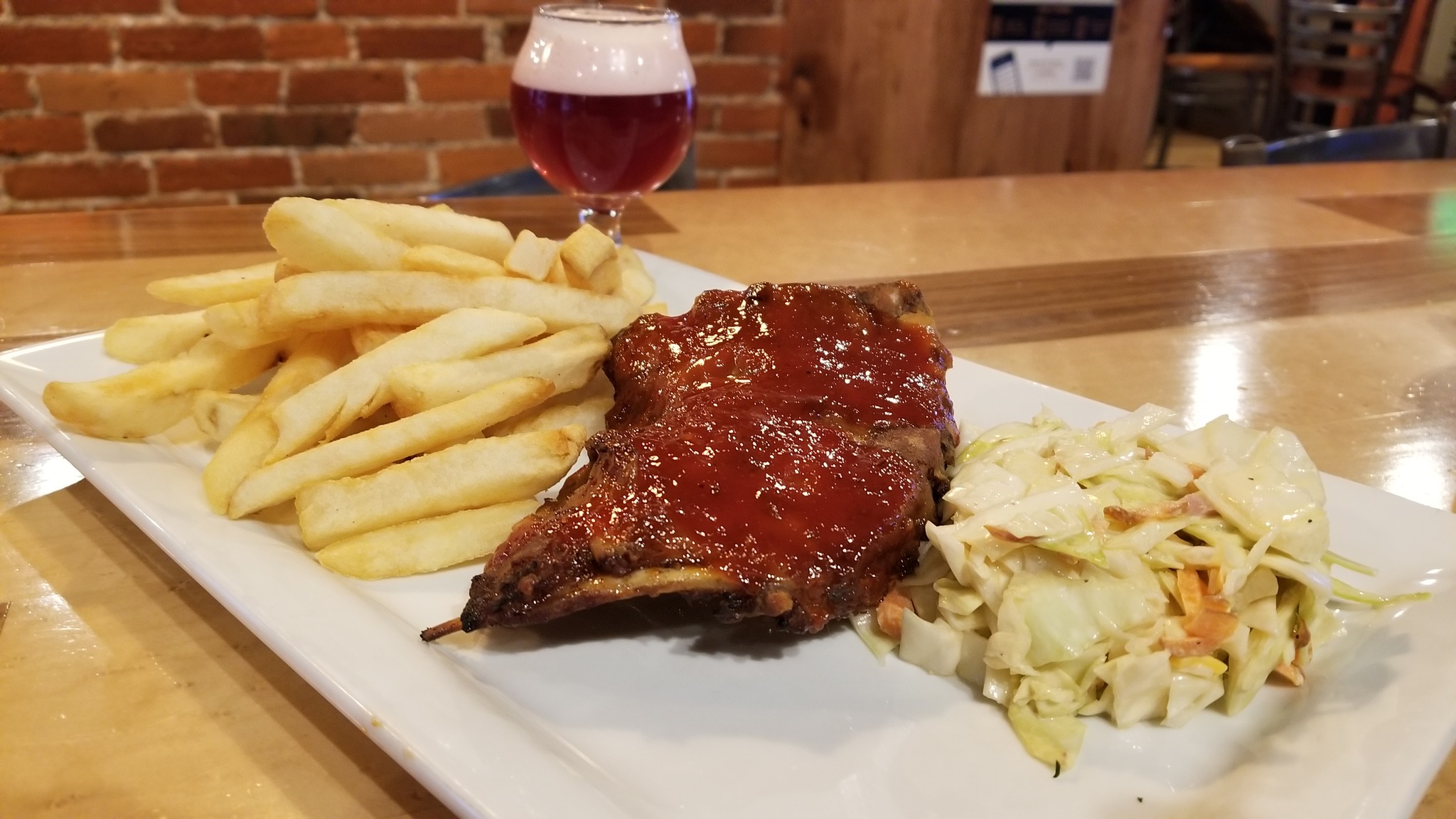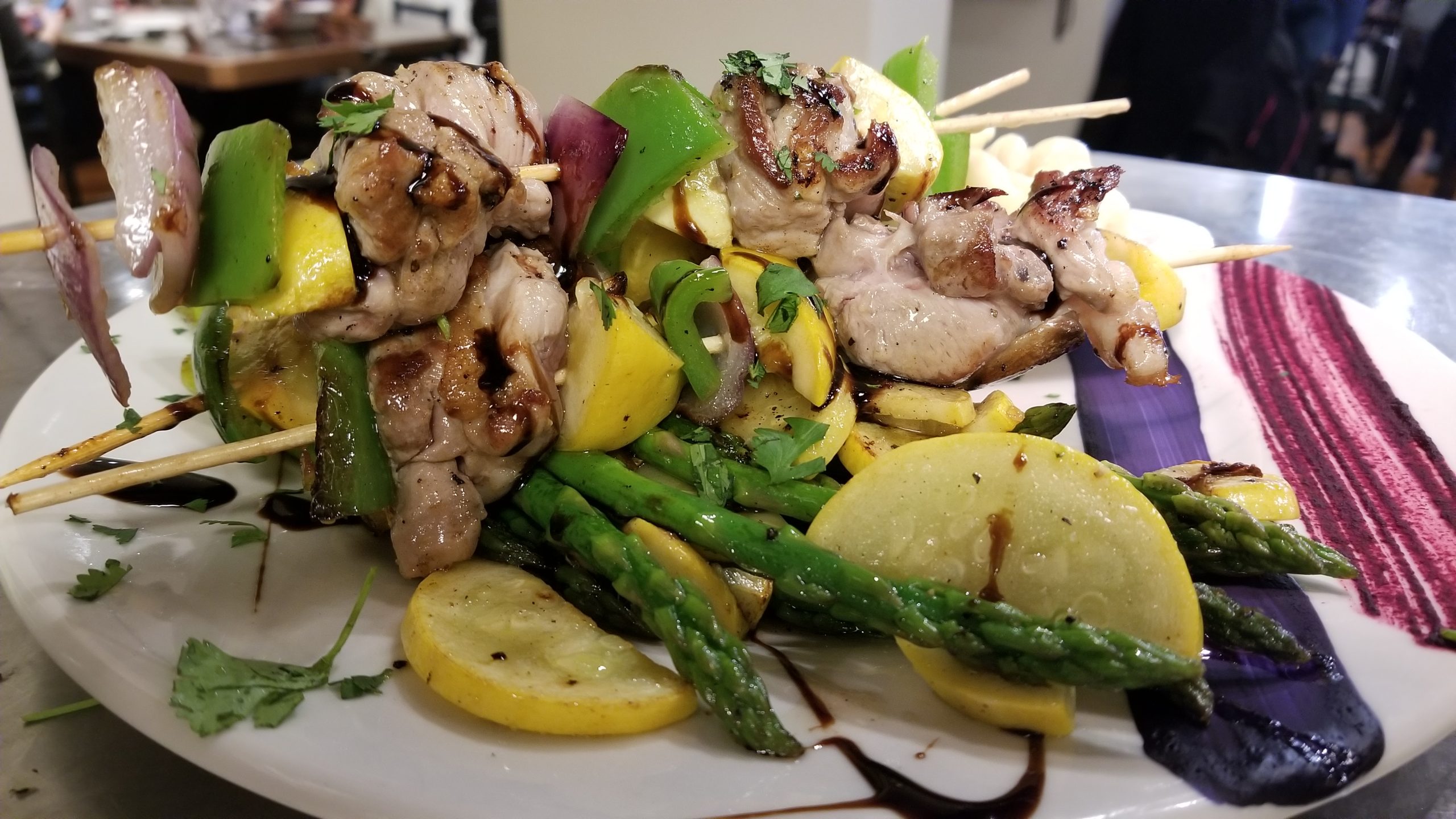 Pulled Pork Mac 'N Cheese: Pulled pork, bourbon sriracha & queso, served with crostini $10 (veggie option available)
Fish 'N Chips: Haddock filet dredged in our own London Called brown ale and our golden shoestring fries, served with coleslaw $15
Turf (& Surf): Hand-cut ribeye prepared to order and served with rosemary/garlic butter, served with your choice of two sides $26, add a shrimp skewer for $4
Bandit Safari: Sampler of our popular exotics, including wild boar baby back ribs, venison brisket & gator tail $20
Chicken Strip Basket: Five, deep-fried strips with garlic toast and your choice of side $12
Gator Kabobs: Skewered with tomato wedges, onion and peppers; served your choice of two sides $25
The Pumba: Quarter rack of wild boar baby back ribs slathered in Carolina BBQ sauce and served with your choice of two sides $19
The Bangladesh: House-crafted curry chicken salad with spring mix on a toasted brioche bun $15
Wings
Traditional
Small (5-7 wings) $9, Large (10-13 wings) $18
Boneless
Small (half-pound) $8, Large (pound) $16
Choice of Sauce:
Hellfire strawberry sriracha
Bourbon sriracha
Carolina BBQ
Buffalo
Parmesan garlic
Killer Bee mustard-q
Dry Rubs:
Lemmon pepper
Cajun
Garlic bread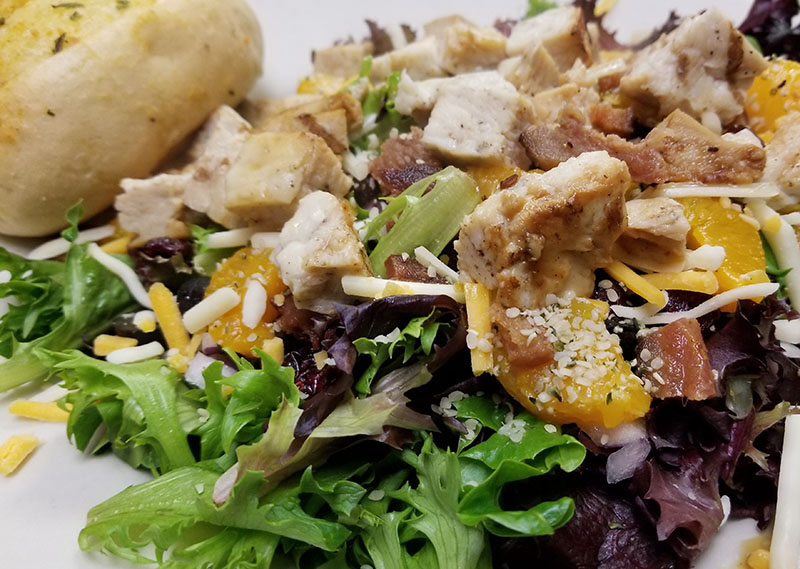 Switch any salad to a wrap with choice of side for $3.
Santa Fe Chicken: Spring mix loaded with tomatoes, black beans, onion, avocado and crushed tortilla chips topped with grilled chicken and a house-made Santa Fe sauce $14
Smothered Philly: Thin cut ribeye, peppers and onion smothered with Swiss cheese atop a bed of spring mix, served with house crostini $16
Green Acres: Spring mix loaded with tomatoes, onions, peppers, carrots, cucumbers, and avocado, served with house crostini $10
Dressings:
Ranch
Bleu cheese
Thousand island
Raspberry vinaigrette
Honey mustard
Italian
Sides, For the Kiddos & Sweet Cravings
Sides
Loaded fried Brussels sprouts $4
Apple sauce $2
Shirazi salad $3
House veg $3
Mac and cheese $3
Side salad $3
Gazpacho $3
Slaw $2
Sweet Cravings
Bourbon St. Crisp: Peaches prepared with bourbon whiskey and a crunch topping, served with a scoop of vanilla ice cream $8
Campfire Snickers: Deep fried Snickers dredged in a graham cracker blend and served on a bed of marshmallow fluff, topped with caramel syrup $7
For the Kiddos
Chicken Strip Basket $5
Grilled PB & J with Apple Sauce $5
Burger $5
Grilled Cheese $4
Cheese Pizza $5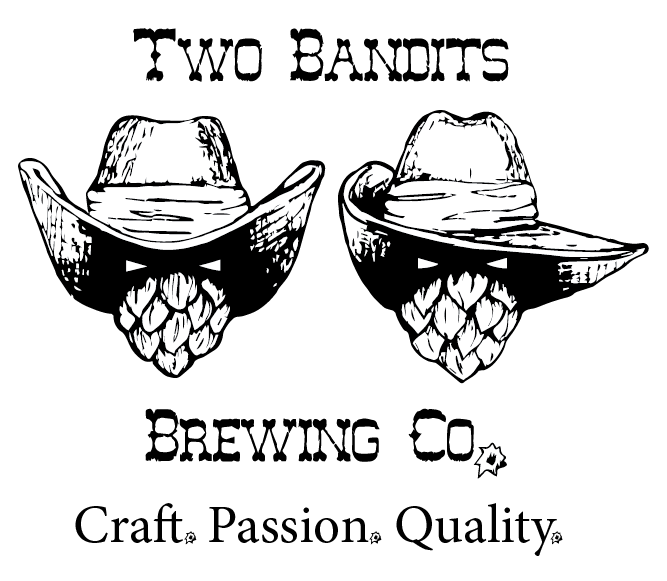 Hicksville & Coldwater Hours
Wed. & Thurs.: 5-9 p.m.
Fri. & Sat.: 3-9 p.m.
Come see us!
106 E. High Street, Hicksville, Ohio
61 W. Chicago Street, Coldwater, Michigan